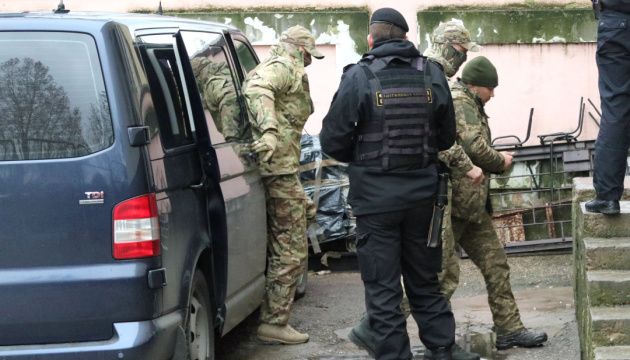 Moscow court leaves four more Ukrainian sailors in custody
The Moscow City Court has rejected an appeal from four more Ukrainian sailors who are prisoners of war, leaving them in custody until the end of April, the coordinator of the team of lawyers, Nikolai Polozov, has said on Facebook.
"The appeals institution of the Moscow City Court has held a meeting regarding the second group of four prisoners of war. It did not differ in originality, and, as in the case of the first four [sailors], the ruling of the court of first instance to extend the preventive measure has been upheld," Polozov wrote.
According to him, on February 12, the Moscow City Court heard the appeals filed by the second group of four Ukrainian sailors - Yevhen Semydotsky, Andriy Oprysko, Roman Mokriak, and Serhiy Tsybizov.
All four prisoners of war were sent to court, however, at the request of the investigator supported by the prosecutor, the court decided to hold a session behind closed doors, Polozov said.
"During the session, the defense team filed a petition for the inclusion of copies of the PACE resolution, which contains the demand for the Russian authorities to immediately release the captured military sailors and treat them in accordance with the Geneva Conventions. This petition has been rejected," the lawyer said.
According to him, the final court ruling was the same as that on the previous group of four sailors - the ruling of the Lefortovo District Court of Moscow was left unchanged, and the prisoners of war will remain in custody until the end of April.
On February 7, the Moscow City Court rejected complaints to extend the arrest of the first four Ukrainian sailors captured in the Kerch Strait - Volodymyr Tereshchenko, Serhiy Popov, Bohdan Holovash, and Andriy Shevchenko.
On November 25, 2018, Russian border ships in the Kerch Strait fired on and seized three Ukrainian warships that sailed from the port of Odesa to the port of Mariupol. Twenty-four Ukrainian sailors were captured.
After Russian-controlled "courts" in Crimea ruled to arrest the captured sailors, they were all transported to Moscow.
All of them called themselves prisoners of war.
On January 15 and 16, Moscow's Lefortovo District Court ruled to extend the arrest of captive Ukrainian sailors for three months. The lawyers of Ukrainian sailors challenged the ruling.