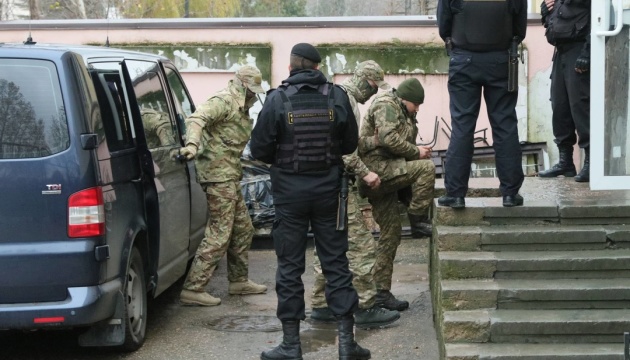 Moscow court rejects appeals against extended arrest of first four Ukrainian sailors
The Moscow City Court has rejected appeals against the court ruling to extend the arrest of the first four Ukrainian sailors captured by Russian military in the Kerch Strait, the coordinator of the team of lawyers, Nikolai Polozov, has reported on Facebook.
"The appellate institution of the Moscow City Court has considered complaints of the defense team regarding the first four prisoners of war, sailors Volodymyr Tereshchenko, Serhiy Popov, Bohdan Holovash, and Andriy Shevchenko. At the request of the investigation, the court session was held behind closed doors. The court refused to attach a copy of a PACE resolution. Complaints have been rejected," Polozov wrote.
He specified that the prisoners of war had been brought to a court session.
"The tactical task of challenging the extension of the preventive measure has been fulfilled - the necessary procedures for applying to the ECHR have been passed," the lawyer said.
As reported, on November 25, 2018, Russian border ships fired on and seized in the Kerch Strait three Ukrainian naval vessels that were moving from Odesa to Mariupol. Twenty-four Ukrainian sailors were captured.
The sailors were detained for two months. They were charged with illegally crossing Russia's border in the Black Sea. On November 29, Ukrainians were taken to a detention center in Moscow.
On January 15 and 16, Moscow's Lefortovo District Court extended the arrest of all 24 seamen for three months. The lawyers of Ukrainian sailors challenged the ruling.
All captured sailors called themselves prisoners of war.