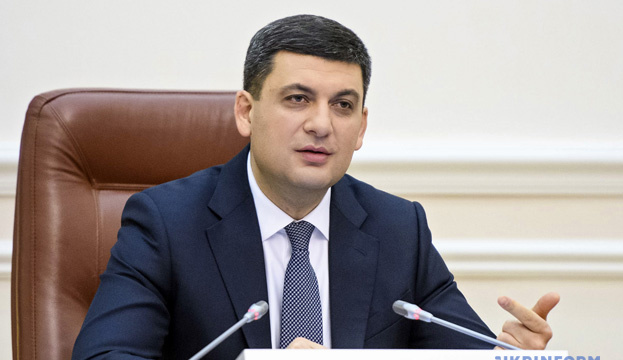 Ukrainians to see results of healthcare reform in 3-5 years — Groysman
The healthcare reform changes financing principles and the quality of service provision, Prime Minister of Ukraine Volodymyr Groysman has said.
"If everything that is envisaged by the plan of healthcare reform will be put into practice during a period of 3-5 years, thus Ukrainians will see positive changes in the healthcare system and feel improvements of the quality of medical care provision. It is important to act systematically and consistently. As a result, Ukrainians will have qualified doctors, comfortable medical facilities, and doctors will receive decent wages," Groysman said, the Government portal reported.
According to him, medical reform is often being criticized. "Criticism will sink into oblivion soon, but the things we do will remain. If we move forward, people will receive a new quality of health care delivery," the head of government noted.
The Health Ministry of Ukraine informs that 25 million Ukrainians which is more than half the population of the country have chosen their doctor or pediatrician for a child. The National Health Service of Ukraine, which is a key element in the policy of providing state financial guarantees for medical care of the population, is actively working in this direction. Nowadays, 97% of medical institutions, including private clinics, have signed agreements with the National Health Service of Ukraine. A sum worth UAH 3.5 billion has been allocated for the services rendered.
According to the prime minister, this year's medical innovations will touch upon several areas at once. "Firstly, starting from April, electronic recipe service will operate under the Available Medicines program. Medicines can be bought at any pharmacy that works under the said program without being tied to the place of residence and pharmacy location. The money for the medicine will be transferred to a concrete pharmacy. Secondly, starting from the summer 2019 medical tests will be free on prescription. Thirdly - emergency medicine reform. We want to get new knowledge of emergency services, new transport and equipment, as well as new salary. Together with local authorities, we will invest about UAH 2 billion in these measures," Groysman said.
He explained that at the first stage the emergency medicine reform will be implemented as pilot project, and then this practice will be spread throughout the country.
"Moreover, we will complete the construction of Okhmatdyt Children's Hospital, speed up the construction of cardiology centers - we have equipment for them. The presidential program for the reform of rural medicine will work. This all will be a system of medical care," the prime minister summed up.