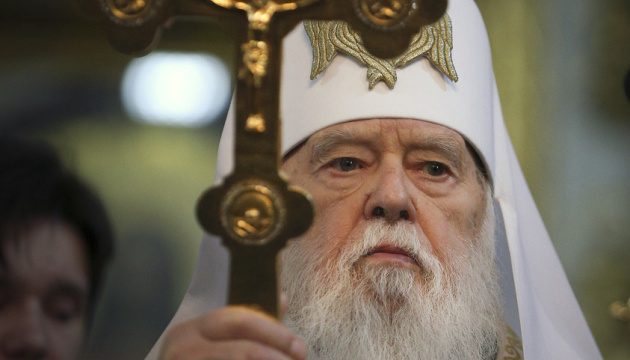 Orthodox Church of Ukraine will definitely get status of patriarchate - Filaret
The Orthodox Church of Ukraine will definitely receive the status of a patriarchate, but it is necessary to unite all Ukrainian Orthodoxy for this purpose.
Honorary Patriarch of the Orthodox Church of Ukraine Filaret said this in his speech after a thanksgiving prayer service in the Holy Trinity Orthodox Cathedral in Lutsk on Tuesday, an Ukrinform correspondent said.
"Today we have the status of a metropolis, but our goal is to reach a patriarchate, and we will definitely achieve this goal. To do so, we must unite all Ukrainian Orthodoxy. The sooner we unite all Ukrainian Orthodoxy into one single Ukrainian Orthodox Church, the sooner we receive recognition of our status not of the metropolis, but of the patriarchate," Filaret said.
He added that this is the future, but for now, it is necessary to thank Ecumenical Patriarch Bartholomew, Ukrainian President Petro Poroshenko and all the Ukrainian people who wanted autocephaly and asked God for help in uniting Ukrainian Orthodoxy.
"We will definitely unite. There is no other way for Ukrainians," Filaret said.
He said that today "some of our brothers still do not want to unite with the Orthodox Church of Ukraine and hope for the strength of Moscow."
"But Moscow will lose its strength, and the victory will be ours, Ukrainian, along with the entire civilized world - with America, with Europe, because we are not alone," Filaret said.