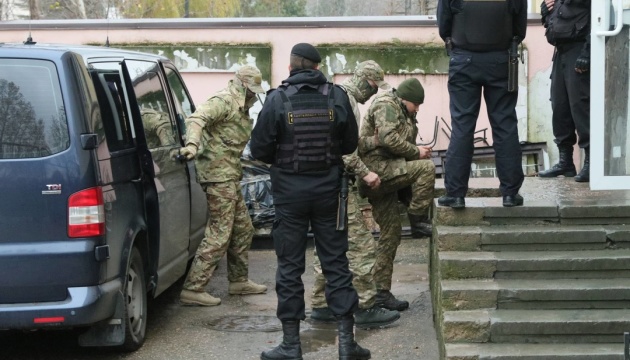 Consul visits wounded Ukrainian sailors in Moscow
Ukraine's consul in Moscow Albert Cherniakov has visited in a detention center wounded Ukrainian sailors who were captured by Russian troops near the Kerch Strait.
The father of a wounded Ukrainian sailor, Viktor Soroka, said this live on Hromadske TV on the evening of Thursday, January 10.
"Twenty minutes ago, I talked to Albert Volodymyrovych - a consul who visited our prisoners of war in Matrosskaya Tishina today. According to the latest information we received from him, the guys stand firm. [...] but have injuries. In particular, Vasyl [Soroka] has a hand injury, it does not function properly," the sailor's father said.
According to him, the prisoners of war have been provided with clothes and also have food received from volunteers.
"They are waiting for release. They are waiting for help from Ukraine," Viktor Soroka said.
Verkhovna Rada Human Rights Commissioner Liudmyla Denisova said earlier that next week she plans to go to Moscow to meet with her Russian counterpart Tatyana Moskalkova and FSB Director Alexander Bortnikov and demand that she be granted access to captive sailors.
On November 25, 2018, Russian border ships fired on and seized in the Kerch Strait three Ukrainian vessels that were moving from the port of Odesa to the port of Mariupol. A total of 24 Ukrainian sailors were captured.
Russian-controlled "courts" in occupied Crimea arrested all sailors for two months, and they were taken to Moscow.
At present, 21 Ukrainian servicemen are in Moscow's Lefortovo prison, and three more wounded sailors stay in the Matrosskaya Tishina prison.
The coordinator of the team of lawyers, Nikolai Polozov, said that all Ukrainian sailors captured by Russia told investigators that they are prisoners of war.
On January 7, Ukraine filed a lawsuit against Russia with the European Court of Human Rights over the violation of the rights of detained Ukrainian sailors.