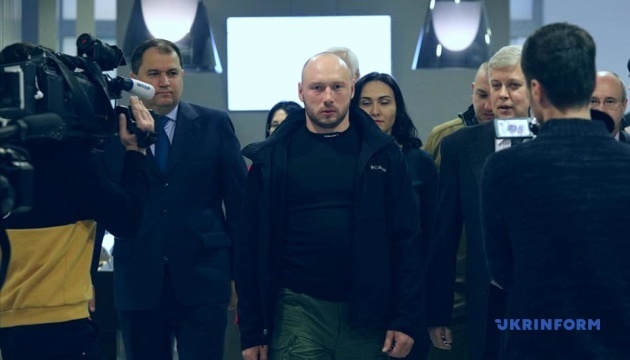 Ukrainian sailor Novichkov arrives in Ukraine
Freed Ukrainian sailor Andriy Novichkov has returned from Iran to Ukraine, an Ukrinform correspondent said.
He told journalists at a briefing at Boryspil Airport that he was fine and thanked everyone who helped release him from captivity.
"I thank the president for assistance, guys from foreign intelligence, our embassy, the Foreign Ministry – they did all they could. Special thanks to the embassy, citizens who live there [in Iran], and to people's deputies who also helped," Novichkov said.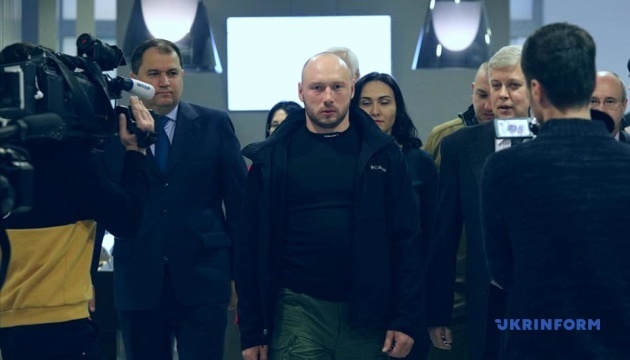 According to Andriy Alekseyenko, first deputy head of Ukraine's Foreign Intelligence Service, due to the specifics of this agency, the details of the exchange of the Ukrainian sailor for an Iranian spy cannot be disclosed.
"The main thing for us is the result. A Ukrainian citizen who faced death penalty has returned home," Alekseyenko said.
According to him, Ukrainian President Petro Poroshenko has already phoned the sailor's grandmother and congratulated her on the return of her grandson.
A citizen of Iran, who was pardoned under a decree of the Ukrainian president in exchange for Novichkov, returned to Iran at midnight.
Novichkov said he currently planned to rest with his family and then look for a job.
President Petro Poroshenko announced the release of Ukrainian sailor Novichkov on January 8.
A sailor from Odesa, Novichkov, left Ukraine in November 2016. He signed a contract to work as a senior assistant captain on board the Iranian container ship Arezoo. On the 18th day of a voyage in the South China Sea, Novichkov had a conflict with one sailor. According to the Ukrainian, that sailor was rude, tried to hit him, and then jumped overboard. The vessel stopped, the search started, but the sailor was not found.
The crew of the ship was dissolved after the incident. In February 2017, Novichkov was taken ashore and brought to the police, where he was asked to confess to committing the murder. In the autumn of 2017, the sailor went on hunger strike, and on the 11th day he was released from custody on personal recognizance of the consul and forbidden to leave Iran until the end of the investigation.
During the time of the investigation, the case was requalified from negligent manslaughter to premeditated murder. The Ukrainian faced death by hanging.
On May 17, 2018, Odesa Regional Council at an extraordinary session approved an appeal to the president and the Verkhovna Rada with the request to take measures to rescue the Ukrainian sailor.