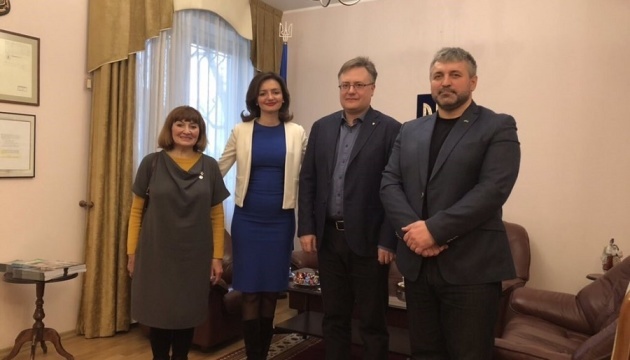 Ambassador Betsa thanks diaspora in Estonia for promoting Ukraine
Ukraine's Ambassador to Estonia Mariana Betsa has thanked heads of Ukrainian organizations for their active work on promoting the image of Ukraine.
"On December 27, Ukraine's Ambassador to Estonia Mariana Betsa met with leaders of Ukrainian organizations in Estonia. The meeting was attended by Chairperson of the Congress of Ukrainians in Estonia Vira Konyk, President of the Association of Ukrainian Organizations in Estonia Volodymyr Palamar and Head of the Ukrainian Community of Estonia Yevhen Tsybulenko," the Embassy of Ukraine in the Republic of Estonia reported.
During the meeting, the ambassador noted a great contribution of the diaspora to the development of Ukrainian culture and identity in the Republic of Estonia. Betsa also thanked the Ukrainian community for countering Russian aggression and supporting of Ukrainian soldiers and internally displaced persons in Ukraine.
The parties also discussed the issue of counteracting the Kremlin's propaganda in Estonia and spreading objective information about Russia's crimes in Donbas.