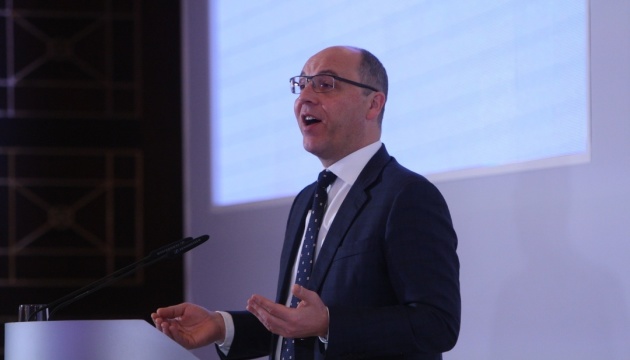 Parubiy thanks Metropolitan of Korea for supporting tomos for Ukraine
Verkhovna Rada Chairman Andriy Parubiy has met with a member of the Synod of the Ecumenical Patriarchate, Metropolitan Ambrosios (Zografos) of Korea.
The meeting took place as part of the Ukrainian parliament speaker's official visit to South Korea, the press service of the Verkhovna Rada reported.
"The Verkhovna Rada chairman thanked Metropolitan Ambrosios as a member of the Holy Synod of the Ecumenical Patriarchate for taking care of the issue of granting a tomos of autocephaly to the Orthodox Church in Ukraine," the statement reads.
"For over three hundred years, when the Ukrainian Orthodox Church was annexed by Moscow, Ukrainians prayed and hoped to receive their own autocephalous local church. We especially felt the need to have our own single local church at the beginning of Russian aggression in 2014, when Putin's Russian Empire used the Russian Orthodox Church in the war against Ukraine," Parubiy said.
He also reminded the metropolitan of how the newest process of struggle for receiving the tomos of autocephaly and the creation of a single local Ukrainian Orthodox Church (UOC) began in 2016.
The speaker also emphasized the prominent role and courage of Ecumenical Patriarch Bartholomew in the creation of a single local UOC, despite all threats from Moscow.
At the beginning of the meeting, Bishop Ambrosios congratulated the Verkhovna Rada speaker on the day of memory of St. Andrew the First Called.
"At the end of the meeting, Parubiy said he believes that the tomos, which will be granted to the primate of the local Autocephalous Orthodox Church in Ukraine, will also have the signature of Metropolitan Ambrosios of Korea as a member of the Synod of the Church of Constantinople," the report says.
At the end of the meeting, Metropolitan Ambrosios and Archpriest Bogdan held for a delegation of the Verkhovna Rada an excursion to St. Nicholas Cathedral in Seoul, which was built in honor of St. Nicholas the Wonderworker, and to the temple in honor of Saint Maximus the Greek, in which Orthodox Ukrainians living in South Korea gather for prayers.