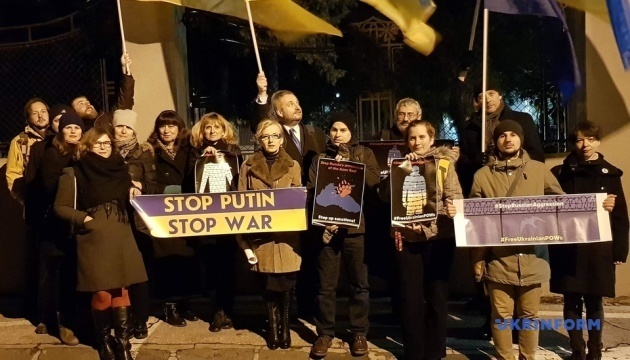 Support Ukraine rally held near Russian embassy in Bratislava. Photos
On the evening of December 12, a protest rally "Support Ukraine" was held near the Russian embassy in Bratislava in support of Ukrainian film director Oleg Sentsov and other political prisoners illegally imprisoned in Russia.
As Ukrinform learnt from the Embassy of Ukraine in Slovakia, the rally was organized by the representatives of the Ukrainian-Slovak initiative "All Together!" Thirty-five people, including Slovak parliamentarians, experts, representatives of the Slovak-Czech platform "For Oleg Sentsov" and journalists, took part in it.
"In their speeches, Slovak activists voiced a protest to Russia over the armed attack and seizure of Ukrainian ships and their crews, demanded to release the captured sailors and return the ships. The rally participants emphasized that responsibility for aggravating the situation in the Sea of Azov and the Black Sea and undermining the peaceful settlement of Russia-Ukraine conflict entirely rests with the Russian Federation," the Ukrainian diplomatic mission informed.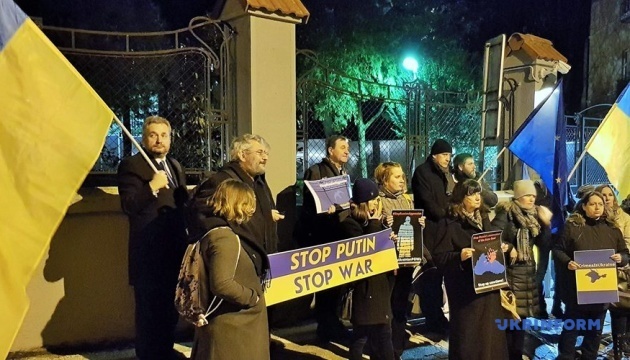 The activists also demanded to release 70 Ukrainian political prisoners held in Russian prisons and stressed the need to strengthen sanctions against the Russian Federation.
As reported, the European Parliament awarded the 2018 Sakharov Prize for Freedom of Thought to imprisoned Ukrainian film director Oleg Sentsov. Sentsov's cousin sister, Natalia Kaplan, accepted the prize in the filmmaker's name at a ceremony in Strasbourg on December 12.
ol