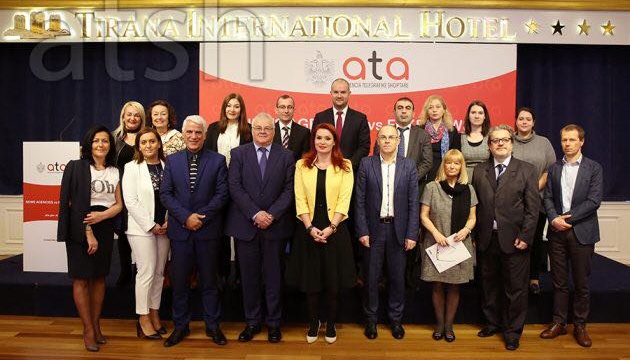 Ukrinform, 12 other European news agencies unite efforts to leave fake news no chance
Ukrinform took part on December 3-4 in an international media conference entitled "News agencies vs fake news" organized by the Albanian ATA agency in Tirana.
Thirteen leading news agencies from Albania, Greece, Croatia, Bulgaria, Azerbaijan, Poland, Romania, Slovakia, Ukraine, Cyprus, Bosnia and Herzegovina, Serbia and Turkey shared their vision of current threats posed by the rapid spread of fakes and disinformation, as well as means and measures to be taken to combat them. The discussion resulted in signing a landmark resolution open for others to join.
"Mass online disinformation campaigns are being widely used by dishonest parties to sow distrust and create societal tensions, with serious potential consequences for the evolution of nations, Europe and the whole world," the resolution reads in the explanatory section.
Media professionals from across Europe acknowledged that journalists currently have to work in straining conditions of a declining trust not only in institutions but also in digital and traditional media. They agreed that fake news and disinformation erode trust and sow discord in societies by promoting radical ideas, fostering confusion, diminishing the basic right for information and putting freedom of expression at risk. News agencies agreed on a number of measures that should be taken to combat threats of fake news and disinformation campaigns, which include:
enhancing transparency;
promoting media literacy;
developing tools to empower users;
safeguarding European media ecosystem diversity;
continuing to research and evaluate the threats;
strengthening cooperation between agencies;
creating new and upholding existing structures fighting fake news;
organizing further conferences to tackle the problem.
Signatories specifically stressed that the Tirana declaration is just the beginning of the initiative, and urged other media to join the effort by leaving the resolution open for others to co-sign.
"...news agencies urge all individual news agencies, no matter them being funded privately or by states, and international associations of news agencies to adhere to the present resolution, having in mind the best interests of the media landscape, the public and societies as a whole," one of the conclusive sentences states.
The full text of the Tirana resolution is available via the following link.