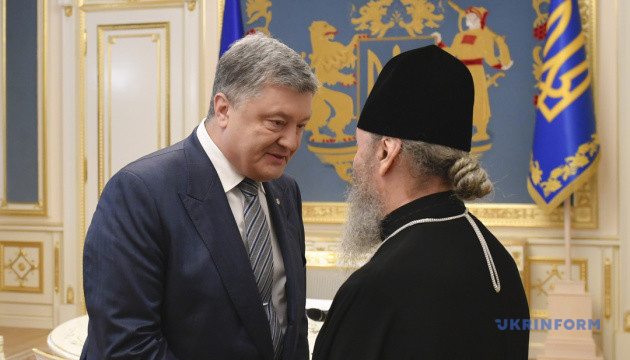 Poroshenko asks Metropolitan Onufriy to help rescue Ukrainian sailors
Ukrainian President Petro Poroshenko has said he is taking all possible measures to free Ukrainian sailors captured by Russia and he even appealed to Head of the Ukrainian Orthodox Church of the Moscow Patriarchate (UOC-MP) Metropolitan Onufriy to assist in this issue.
The head of state announced this in a statement on Sunday, December 9, according to his official website.
"Yesterday and the day before yesterday, I had a conversation with the primate of the Ukrainian Orthodox Church of the Moscow Patriarchate, His Holiness Onufriy. I addressed him with the request to contact Moscow immediately to take respective measures through the church in order to return [our sailors]. I will not stop before any opportunity to take our soldiers back. We will pray and hope that this will happen as soon as possible," he said.
He also said that immediately after receiving information that fire was opened on Ukrainian ships, he requested a conversation with Russian President Vladimir Putin "in order to get an explanation of the actions of the Russian Armed Forces."
"You know that Putin is avoiding any conversation," Poroshenko said.
He noted that after such a reaction from Russia he got into contact with a number of world leaders and leaders of international organizations. In particular, Poroshenko held talks with NATO Secretary General Jens Stoltenberg, German Chancellor Angela Merkel, U.S. Secretary of State Mike Pompeo, Turkish President Recep Tayyip Erdogan and many other world leaders and heads of international organizations.
The head of state once again stressed that no Russian court has any jurisdiction over Ukrainian sailors, since they are prisoners of war in accordance with the Geneva Convention.
"They must be released immediately. Otherwise, Russia will be called to account," Poroshenko said.
As reported, on November 25, Russian border ships seized three Ukrainian vessels and 24 sailors in the Kerch Strait.
Russian-controlled "courts" in Russian-occupied Crimea arrested all detained Ukrainian sailors for two months. All of them now stay in Moscow's detention centers, including three sailors wounded in the Russian attack on Ukrainian ships.
op