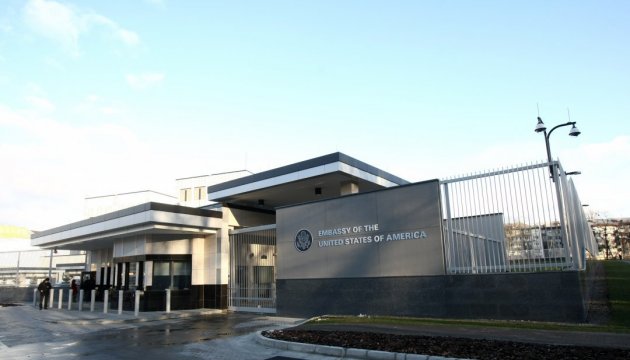 U.S. urges residents of Donbas to boycott 'elections in republics'
The U.S. Embassy in Ukraine has called on residents of the occupied areas of Donetsk and Luhansk regions not to take part in the so-called elections in "Luhansk and Donetsk People's Republics," reads a report posted on the Facebook page of the embassy.
"While Ukraine takes positive steps to promote peace, Russia is stoking conflict by staging sham 'elections.' Residents of eastern Ukraine should boycott these 'elections,' which are not in line with either the Minsk agreements or Ukrainian law," the report said.
As was reported earlier, the Russian occupation administration in Donbas scheduled the so-called "elections" in the occupied areas of Donbas for November 11.
Russia officially declared on Tuesday, November 6, that it would recognize the results of the "elections" of Moscow's puppet regimes.
Ukraine's representative in the humanitarian subgroup of the Trilateral Contact Group Iryna Gerashchenko stated that Russia "issued a mandate for a war that it has declared to Ukraine long ago," and the actions of the Russian Federation and its puppets lead to the breakup of political and diplomatic talks in Minsk and the destabilization of the situation on the frontline.
The EU, the United States, G7 and most member countries of the UN Security Council have already condemned plans to hold pseudo-elections in the occupied Donbas.
op