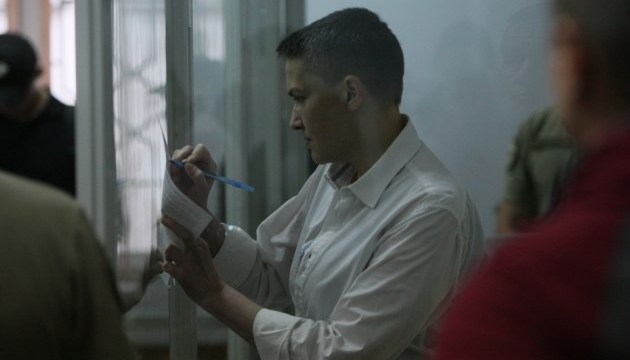 Court leaves Ukrainian MP Savchenko behind bars until Dec 23
Kyiv's Shevchenkivsky District Court has extended the preventive measure for Ukrainian MP Nadiya Savchenko in the form of detention until December 23.
"The period of detention for Savchenko has been extended until December 23, 2018. The decision was made by the investigative judge of the Shevchenkivsky District Court of Kyiv based on the results of the court hearing on the extension of the period of detention for Savchenko, which was held on October 25, 2018," the court said in a statement on its website on Thursday.
Earlier, Nadiya's sister, Vira Savchenko, wrote on Facebook that the court had extended Nadiya Savchenko's arrest until December 30.
On October 23, the court session on extending Savchenko's arrest for 60 days was postponed until October 25 due to the absence of defense lawyers.
On March 22, the Verkhovna Rada agreed to prosecute, detain and arrest MP Nadiya Savchenko.
She is charged with committing acts aimed at violent overthrow of the constitutional order, seizure of state power, encroachment on the life of a state or public figure, preparations for a terrorist attack, assistance to a terrorist organization and illicit handling of weapons, ammunition and explosives.
op