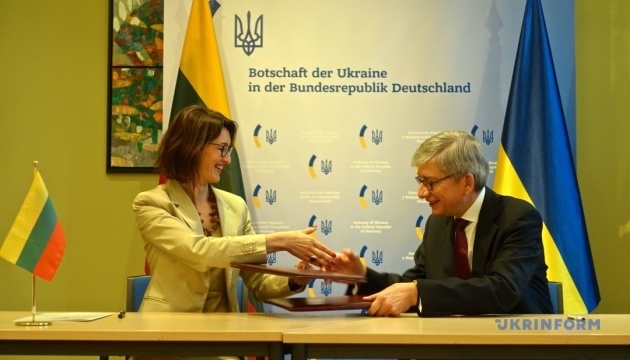 Ukrainian World Congress, Lithuanian World Community sign memorandum of understanding
Eugene Czolij and Dalia Henke signed the memorandum of understanding between the Ukrainian World Congress and the Lithuanian World Community in Berlin on Monday.
The ceremony was held at the Embassy of Ukraine in Germany, an Ukrinform correspondent reports.
The highest coordinating bodies of the diasporas of the two countries agreed to establish long-term cooperation on the issues of mutual interest for the relevant communities around the world as well as to support development in Ukraine and Lithuania.
"This memorandum supports the cooperation that already happens at the state level. Now it will be reflected formally in the public sector," Czolij said in a commentary to the agency's correspondent.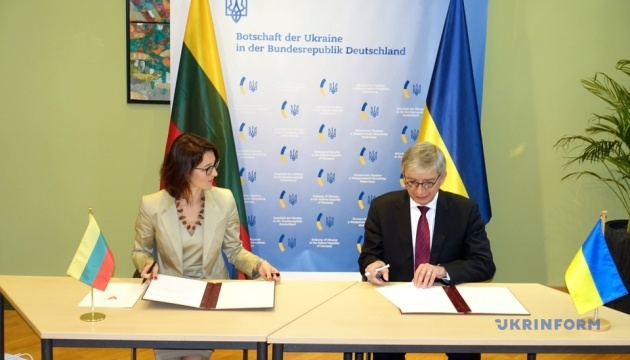 He is convinced it is extremely important that not only the governments, but also the people want to cooperate in the areas covered in the memorandum, primarily in provision of assistance to Ukraine in protecting its territorial integrity and in its Euro-Atlantic integration in order to counteract hybrid threats, including cyber threats and misinformation, together. The parties are ready to promote reforms in both countries, strengthen democracy as well as to cooperate on the issues that are important to the communities around the world.
Dalia Henke called the memorandum "a new path towards cooperation." She believes it is very useful for the diasporas of the two countries to share experience and best practices. "We will fill the document with many ideas," the head of the Lithuanian World Community assured.
ol