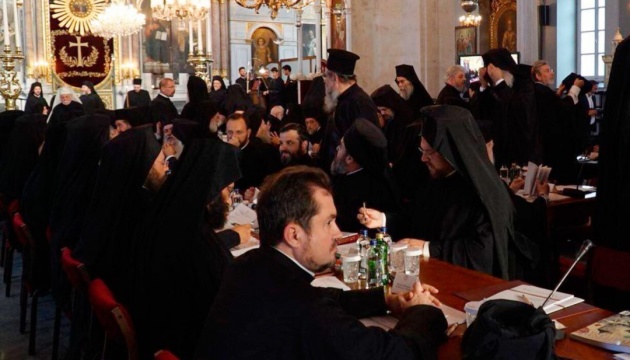 Kyiv Patriarchate calls on supporters to prepare for unification assembly
The Kyiv Patriarchate has called on supporters of autocephaly to begin preparing for a unification assembly to make a decision on the creation of a single local Ukrainian church.
The press center of the Kyiv Patriarchate said this in a statement issued on October 12.
"The Kyiv Patriarchate calls on the hierarchs of the UAOC and the hierarchs of the Moscow Patriarchate involved in the process of unification in Ukraine to begin preparations for an emergency unification assembly. The purpose of this assembly is to make a decision on church unity, elect the primate of a single local autocephalous UOC, who on its behalf will receive a Patriarchal and Synodal Tomos about the autocephaly of the UOC," reads the statement.
The Kyiv Patriarchate also called on the episcopate, the clergy and the faithful of the UAOC, as well as the episcopate, the clergy and the faithful of the Moscow Patriarchate, to support the process of unification of the Ukrainian Orthodox Church.
According to the document, the Kyiv Patriarchate "fully and unquestioningly shares the appeal of the Ecumenical Patriarchate to all involved parties with a call to refrain from seizing churches, monasteries and other property, as well as from any other violent actions and revenge."
It says that the process of unification of Ukrainian Orthodoxy should proceed voluntarily, peacefully and without coercion, and every member of the church, like every community of laity or monks, have the right to freely choose the center of their ecclesiastical subordination - to belong to the Ukrainian or Russian church.
"Those hierarchs, clergy and laity who, despite all the circumstances, will continue to obey the Moscow Patriarchate, have the right to so. The Russian Orthodox Church in Ukraine will coexist on equal terms with all other churches and religious organizations, as guaranteed by the Constitution and laws of ours state and international law," the Kyiv Patriarchate said.
On October 11, the Synod of the Ecumenical Patriarchate decided to issue a tomos on autocephaly to the Orthodox Church of Ukraine.
After the decision by the Holy and Sacred Synod of the Ecumenical Patriarchate to grant Ukraine a tomos of autocephaly, an assembly will be convened in Kyiv with the participation of bishops of the UOC-KP, the UAOC, and the UOC-MP, who appealed to the Ecumenical Patriarch with the request for the tomos. The assembly will carry out a church unification, forming a single local Orthodox church, and will elect its primate.
After that, the head of the united local autocephalous Ukrainian Orthodox church will receive the tomos as a document (letter).
op