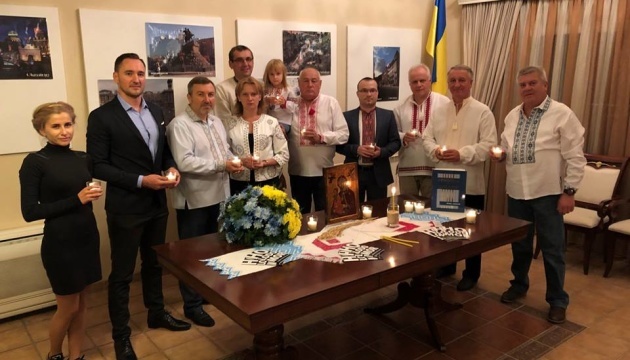 Holodomor victims commemorated in Montenegro, UK
Montenegro has joined the international action "Light a candle of remembrance" dedicated to the 85th anniversary of the Holodomor of 1932-33 in Ukraine.
"On October 9, 2018, Montenegro joined the countries, which commemorate the victims of one of the most tragic pages in the history of Ukraine - the Holodomor of 1932-1933," the Embassy of Ukraine in Montenegro posted on Facebook.
The participants in the action honored the memory of the Holodomor victims by observing a minute's silence and lit the candles of remembrance.
The event was attended by the representatives of Ukrainian community, the embassy staff and Ukrainian lawmakers - members of the friendship group with the Parliament of Montenegro led by Andriy Shypko.
On October 9, the Ukrainian community of the United Kingdom together with First Vice Prime Minister, Economic Development and Trade Minister of Ukraine Stepan Kubiv, Ukrainian Ambassador to the UK Natalia Halibarenko and President of the Ukrainian World Congress Eugene Czolij commemorated Holodomor victims in London, the Association of Ukrainians in the Great Britain reports.
On September 1, 85 days before the Holodomor remembrance day, Ukraine and the world began to honor the victims who died during the genocide of 1932-1933.
Photo courtesy of: Embassy of Ukraine in Montenegro, the Association of Ukrainians in Great Britain
ol