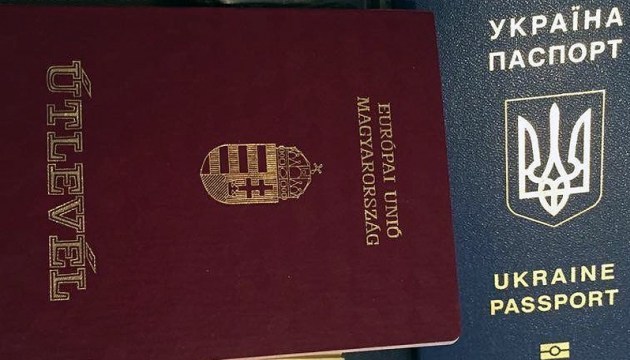 Dual citizenship not a crime in Ukraine - Hungarian Foreign Ministry
Ukrainian citizens do not commit a crime if they do not inform the Ukrainian authorities that they have a passport of another country, and Ukrainian Foreign Minister Pavlo Klimkin confirmed this at a meeting with his Hungarian counterpart in New York.
Hungarian Foreign Ministry spokesman Tamas Menczer said this while commenting on a passport scandal between Hungary and Ukraine, according to the website of the Hungarian government.
"Minister of Foreign Affairs and Trade Peter Szijjarto had met with his Ukrainian counterpart on Wednesday in New York on the sidelines of the high-level meeting of the 73rd United Nations General Assembly. At the meeting, the Ukrainian Foreign Minister admitted that there exists no law in Ukraine that bans citizens from possessing a passport from another country," Menczer said.
He stressed that events at the Hungarian Consulate General in Berehove are in harmony with Hungarian and international law and do not contravene any Ukrainian regulations.
Menczer also recalled that a few days ago "Transcarpathia's Ukrainian governor said that at least half of Ukraine's Members of Parliament are dual nationals, and accordingly the attack on the Hungarians is unacceptable."
As was reported earlier, Ukrinform published a video in which Hungarian passports are issued to Ukrainian citizens at the Hungarian Consulate in Berehove, Zakarpattia region. The procedure was accompanied by a glass of champagne to mark the receipt of a second citizenship and instructions - to conceal the fact of Hungarian citizenship from the Ukrainian authorities.
Ukrainian Foreign Minister Pavlo Klimkin said that the Hungarian consul, who hands over Hungarian passports to Ukrainians in the video, would not remain in Ukraine.
On September 20, Hungarian Foreign Minister Peter Szijjarto, after the scandal with the issuance of Hungarian passports to Ukrainian citizens in Zakarpattia region, said Hungary would take measures to slow Ukraine's integration into the EU and NATO.
Dual citizenship is currently not recognized in Ukraine and, according to the law, is not allowed first of all for civil servants and deputies of all levels.
op