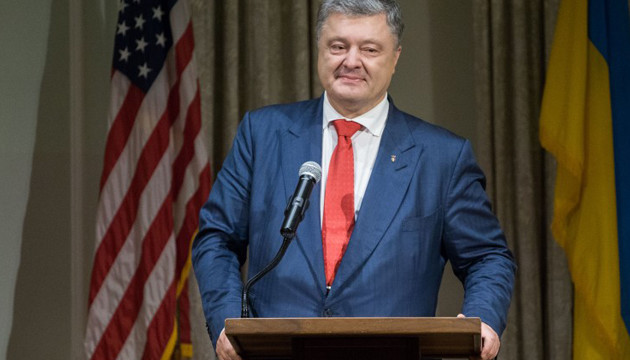 Poroshenko sure Ukraine will soon receive tomos of autocephaly
Ukrainian President Petro Poroshenko has expressed confidence that the decision to grant Ukraine a tomos (ordinance) on the creation of a local Ukrainian Orthodox Church has entered the finish line.
He stated this at a meeting with the Ukrainian community in New York on Tuesday, according to an Ukrinform correspondent.
"I have never called the date for a tomos, and I will not call it. I said that we Ukrainians should pray and fight for God to send it to us. I firmly believe that we are already at the finish line," Poroshenko said.
He said that given the long-suffering path walked by Ukrainians, this "is precisely the evidence that our victory is near and we will liberate Ukrainian land."
Poroshenko said that the church should be separated in every state. "I fully agree with this, especially when this state is foreign. It is our task to protect Ukraine from a foreign church, because we are the largest Orthodox country in Europe," he said. He added that "the church should be one - Ukrainian."
The president noted that Ukrainians were waiting for this decision "for not four, not one hundred years, but for three hundred years."
op