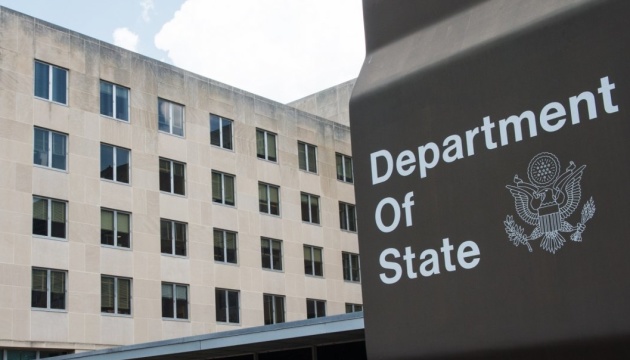 U.S. supports provision of autocephaly to Ukrainian church - State Department
The United States supports the provision of autocephaly to the Ukrainian Orthodox Church.
U.S. State Department Spokesperson Heather Nauert made a respective press statement on Tuesday.
"The United States strongly supports religious freedom, including the freedom of members of groups to govern their religion according to their beliefs and practice their faiths freely without government interference. The United States respects the ability of Ukraine's Orthodox religious leaders and followers to pursue autocephaly according to their beliefs. We respect the Ecumenical Patriarch as a voice of religious tolerance and interfaith dialogue," reads the statement.
The department also emphasizes that the United States maintains unwavering support for Ukraine and its territorial integrity in the face of Russian aggression in eastern Ukraine and the Russian occupation of Crimea.
"We also support Ukraine as it charts its own path and makes its own decisions and associations, free of external interference," Nauert added.
Ecumenical Patriarch Bartholomew said on Sunday, September 23, that he would not change his position on supporting the granting of autocephaly to the Ukrainian Orthodox Church.
On April 19, Ukrainian MPs supported President Petro Poroshenko's address to Ecumenical Patriarch Bartholomew on the provision of a tomos (ordinance) of autocephaly. This idea has long been supported by the leadership of the Ukrainian Orthodox Church (Kyiv Patriarchate) and the Ukrainian Autocephalous Orthodox Church (UAOC).
The Synod of the Ecumenical Patriarchate in Constantinople has already begun the procedure needed to grant autocephaly to the new Ukrainian church. The meeting of the Synod, which will address this issue, is scheduled for October.
Recently, as part of preparations for the provision of autocephaly to the Ukrainian Orthodox Church, the Ecumenical Patriarchate appointed Archbishop Daniel of Pamphilon from the United States and Bishop Ilarion of Edmonton from Canada as its exarchs in Kyiv.
op