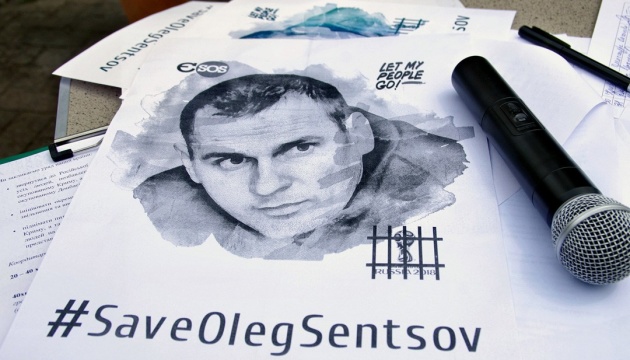 Sentsov no longer believes in his release - sister
Ukrainian film director Oleg Sentsov, who was illegally convicted in Russia, does not believe in his release and is in poor condition, his cousin sister, Natalia Kaplan, has said in an interview with the Meduza e-zine.
"Oleg also lost hope. He wrote to me: 'I do not believe that we will all live together in Kyiv.' He means him and his own children. He wrote a will. He wrote he had hypoxia, and it affects his heart and brain. He feels very bad and does not know how long he will hold on," Kaplan said.
According to Sentsov's sister, she herself has no hope of anything and only does what she can.
"At the moment, I feel in a terrible deadlock. Previously, I always had a plan: to arrange a rally, to file an appeal, to print his stories, to meet politicians, to speak somewhere, but now I do not understand what to do next," Kaplan said.
She said that she regularly communicates with foreign politicians and talks with First Deputy Parliament Speaker Iryna Gerashchenko.
She said that not only the Ukrainian side, but also French President Emmanuel Macron, Turkish President Recep Tayyip Erdogan, German Chancellor Angela Merkel and representatives of Canada are dealing with Sentsov's release.
Sentsov was illegally sentenced in Russia in August 2015 to 20 years in a high-security penal colony on trumped-up charges for plotting terrorist attacks in Russian-occupied Crimea. On May 14, 2018, he declared an endless hunger strike, demanding the release of all Ukrainian political prisoners held in Russia.
About 70 Ukrainian political prisoners, including Ukrinform journalist Roman Sushchenko, are currently held in Russia and Crimea. Sushchenko was sentenced to 12 years in a high-security colony for alleged espionage in Russia.
op