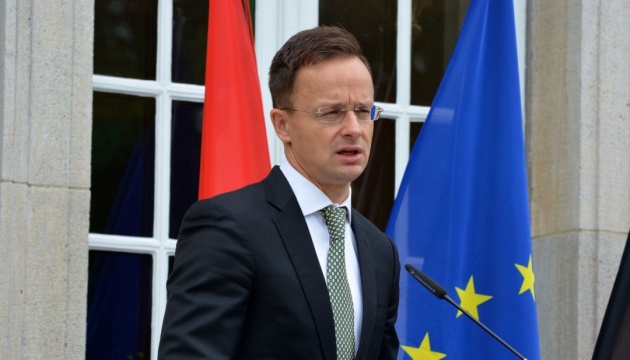 Hungary will respond if its consul is expelled from Berehove - Szijjarto
Hungary will consider the possible expulsion of its consul from the town of Berehove in Ukraine's Zakarpattia region due to a video with the issuing of Hungarian passports to Ukrainian citizens as an "unfriendly and risky move" by Ukraine, which will not remain unanswered.
Hungarian Minister of Foreign Affairs and Trade Peter Szijjarto said this to journalists in Budapest on Thursday, according to the website of the Hungarian Ministry of Foreign Affairs and Trade.
"Such a step would place relations between the two countries in another dimension and would not remain unanswered, but the Ministry of Foreign Affairs and Trade has received no official indication of this nature," Szijjarto said.
He noted that a video recorded with a hidden camera at the Hungarian Consulate General in Berehove would be exploited in the Ukrainian election campaign, using anti-Hungarian sentiment in an attempt to win votes.
According to Szijjarto, the video recording was most probably made and leaked to order.
He added that the citizenship oath recorded in the video "conforms to all regulations," and accordingly the fact that the Ukrainian foreign minister objected to it can only be explained with "domestic policy reasons and the upcoming election."
"Dual nationality is everyday practice within the EU, and accordingly the Ukrainian objections do not indicate that Kyiv is serious about European integration and joining NATO," he said.
He said that the condemnation of the issuing of Hungarian passports by the Ukrainian authorities was an attempt to intimidate Transcarpathian Hungarians and added that the Hungarian government would not allow the Ukrainian administration "to further worsen the situation of Transcarpathian Hungarians."
On September 20, Ukrinform published a video showing how Hungarian passports are issued to citizens of Ukraine at the Hungarian Consulate in Berehove, Zakarpattia region. The procedure was accompanied by a glass of champagne in honor of receiving a second citizenship and instructions for Ukrainians to conceal the fact of obtaining Hungarian citizenship from the Ukrainian authorities.
Subsequently, Ukrainian Foreign Minister Pavlo Klimkin promised to meet with his Hungarian counterpart on the sidelines of the UN General Assembly and talk with him about the issuance of Hungarian passports to citizens of Ukraine in Zakarpattia region. The foreign minister also hinted that the Hungarian consul in Berehove could be expelled from Ukraine.
op