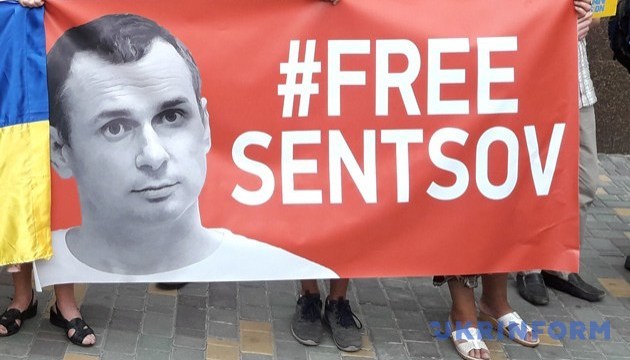 Activists in Bratislava demand to free Oleg Sentsov
A sit-in protest for the liberation of Oleg Sentsov and all Ukrainian political prisoners took place in Bratislava.
The action was organized by Slovak intellectuals, artists and human rights activists. Students, youth, all not indifferent people joined MY SME OLEG SENCOV (We all are Oleg Sentsov) action.
"When the participants of the 4th Ukrainian-Slovak Forum were informed that an action in support of Oleg Sentsov would be held in the evening, we did not hesitate to join it! We also felt the state support. Deputy Foreign Minister of Ukraine Vasyl Bodnar, employees of the Ukrainian embassy as well as representatives of the Slovak authorities joined the protest. The Slovaks crave for information about Ukrainian captives of the Kremlin," President of the Center for Global Studies Strategy XXI Mykhailo Gonchar posted on Facebook.
At the same time, a similar action took place in Prague. Czech and Slovak artists and intellectuals decided to organize a joint action as the Czechs and the Slovaks jointly opposed the Soviet invasion of Czechoslovakia to suppress the Prague Spring 50 years ago.
ol