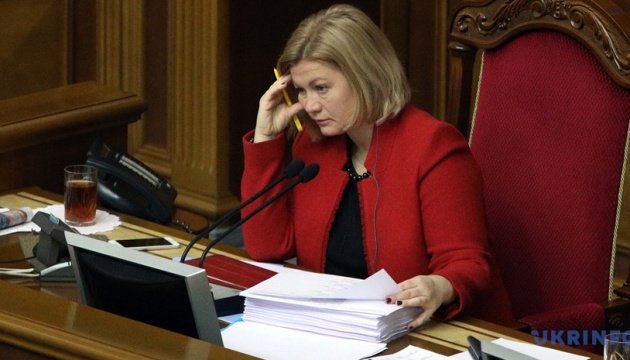 Ukraine ready to pardon 11 Russians who appealed to Putin
The Ukrainian side is ready to pardon 11 Russian citizens, convicted of crimes against Ukraine's sovereignty, who appealed to Russian President Vladimir Putin with the request to return them to Russia in exchange for Ukrainian political prisoners.
Ukraine's representative in the Trilateral Contact Group on the settlement of the situation in Donbas and First Deputy Speaker of the Verkhovna Rada Iryna Gerashchenko wrote this on her Facebook page on Thursday.
"We will send Russian representatives in the TCG the information about the statements of criminals and terrorists - citizens of the Russian Federation who expressed their desire to return to Russia and wrote their requests to their President Putin. The Ukrainian side and our president are ready to pardon Russian saboteurs and thieves in exchange for the liberation of our political prisoners," Gerashchenko said.
She recalled that 11 Russians convicted in Ukraine had already written statements to Putin.
"I want to emphasize that these citizens were convicted of very grave crimes, including terrorism, so when the Kremlin calls Oleg Sentsov a 'terrorist' in a case trumped up by the FSB, let him better take care of the real terrorists who were sent by the FSB and the Kremlin to fight in Ukraine," Gerashchenko said.
At the same time, she emphasized that in close coordination with Verkhovna Rada Human Rights Commissioner Liudmyla Denisova, the Ministry of Foreign Affairs, the Security Service of Ukraine, steps are being taken to free Ukrainians. This question is under constant control of President Petro Poroshenko, she added.
She also noted that there is currently no response from Russia regarding the initiative to transfer Russians serving their prison terms in Ukraine for crimes against the state, as well as regarding Ukraine's initiative to hold a meeting of the Ukrainian and Russians ombudspersons in Minsk on August 21-22.
As reported, on August 15, Denisova said that eight Russian citizens had written statements to Putin asking him to return them to Russia through an exchange for Ukrainian political prisoners.
In particular, such statements were written by Vyacheslav Vysotsky (Cherkasy penal colony No. 62), Valery Ivanov and Alexander Valekhidis (Drohobych penal colony No. 40), Vladislav Grechin (Odesa penitentiary institution No. 21), Viktor Ageyev (Romny penal colony No. 56), Oleg Doronin (Horodysche penal colony No. 96), Denis Sidorov and Evgeny Shatalov (Zhytomyr penitentiary institution No. 8).
On August 3, Russian Alexei Sedikov, convicted for terrorism, filed a statement to the Russian president asking him to return him to Russia through an exchange for one of the Ukrainian political prisoners.
In addition, such statements were also written by Alexander Sattarov and Farukh Kamalov, who are held in the Lukianivka pre-trial detention center in Kyiv.
op