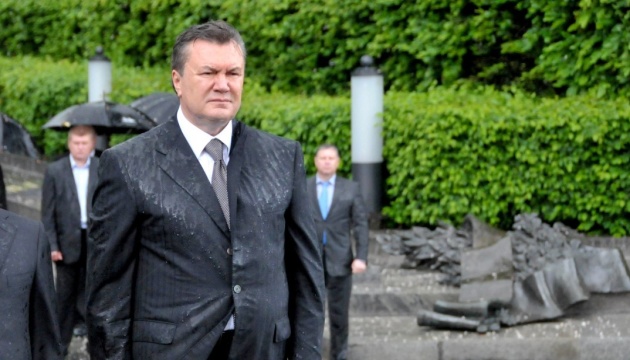 Prosecutors ask court to jail Yanukovych for 15 years
Prosecutors in Kyiv's Obolonsky District Court, which is holding judicial debates in a high treason case against former Ukrainian President Viktor Yanukovych, have asked the court to sentence him to 15 years in prison, an Ukrinform correspondent reports.
Prosecutor Maksym Krym said at the end of his speech that "we ask [the court] to find [Yanukovych] guilty and sentence him to 15 years of imprisonment."
The speech read out by the prosecutors was interrupted all the time by lawyer Vitaliy Serdiuk, who was reading out a statement about the disqualification of the panel.
Presiding Judge Vladyslav Deviatko said that the text of the prosecutors' speech would be added to the materials of the case and asked one of the paid lawyers of the ex-president, Oleksandr Baidyk, how much time he needed for a speech in judicial debates. Baidyk said that he needed three months.
After that, the judge asked state-appointed lawyer Yuriy Riabovol how much time he needed to prepare for the debates. At the same time, Serdiuk began interrupting the judge saying that Riabovol was allegedly not a lawyer for Yanukovych. Riabovol replied that he also needed three months.
op