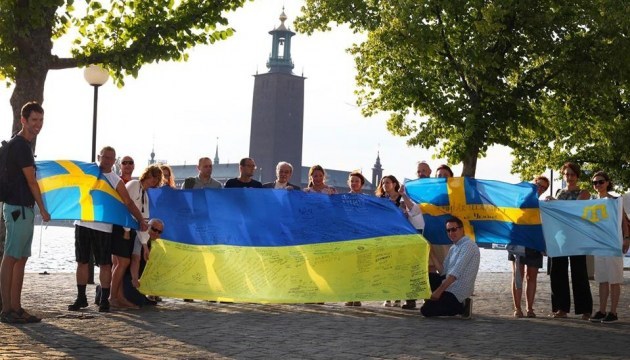 Ukrainians in Sweden join United by Flag action. Photos, video
The Ukrainian communities in Sweden have joined the United by Flag international action, which took place in one of the central squares of Stockholm on August 9.
"Ambassador of Ukraine to Sweden Ihor Sagach, chairs and members of the civic organizations of Ukrainians in Sweden "Ukrainian Women Organization in Sweden", "Ukrainian Youth in Sweden", diplomatic staff of the Embassy of Ukraine in Sweden, Ukrainian and Swedish activists of Stockholm wrote the wishes for peace to Ukrainians around the world," the press service of the Ukrainian Embassy in Sweden reports.
Signed in Stockholm, the blue and yellow flag went to Warsaw.
Initiated by the Ukrainian community in Ireland, the flag of Ukraine travels around the globe, uniting Ukrainian communities in various part of the world. This chain of unity will end on August 23, when the flag arrives in Kyiv on the eve of the Independence Day celebrations.
The blue and yellow flag has already been to the UK, France, Germany, Portugal, Spain, Greece, Turkey, Bulgaria, Italy, Estonia, Finland, Latvia and Lithuania.
ol