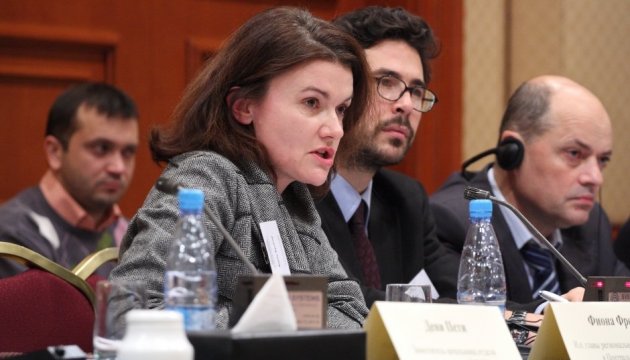 UN Human Rights Monitoring Mission in Ukraine releases report on Ilovaisk events
The UN Human Rights Monitoring Mission in Ukraine has established the facts of killing of wounded and captured Ukrainian soldiers, as well as the use of torture and ill-treatment against them during the Ilovaisk tragedy in August 2014.
Head of the UN Human Rights Monitoring Mission in Ukraine Fiona Frazer said this, presenting a thematic report on human rights violations and abuses and international humanitarian law violations, committed in the context of the Iloivaisk events in August 2014, an Ukrinform correspondent reports.
"OHCHR received allegations of the killing of three Ukrainian soldiers after they surrendered on 29 August 2014. Allegations also suggest that some Ukrainian soldiers wounded in combat were subsequently killed despite being hors de combat," Frazer said.
OHCHR also documented the enforced disappearance of a male military doctor, which may have led to his death.
According to Frazer, during the morning of 29 August 2014, Ukrainian forces began to leave Ilovaisk in a southerly direction. Ukrainian soldiers maintain that as they retreated, they were attacked by regular troops of the Russian Federation.
Ukrainian soldiers, including those wounded, who were captured on 29 and 30 August 2014 during their retreat from Ilovaisk, were kept for two days in makeshift collection points located in open fields near the zone of hostilities. At least four wounded Ukrainian soldiers died due to the non-provision of adequate medical assistance.
"On 31 August and 1 September 2014, some 300 captured Ukrainian soldiers were placed in three detention facilities in Donetsk city and in one in Snizhne, under the control of the armed groups. The conditions in all detention facilities in Donetsk city and Snizhne were inhuman due to overcrowding, lack or absence of mattresses, absence of day light, lack of fresh air, inadequate sanitary conditions, insufficient and inadequate food, and lack of medical aid," reads the report.
ol