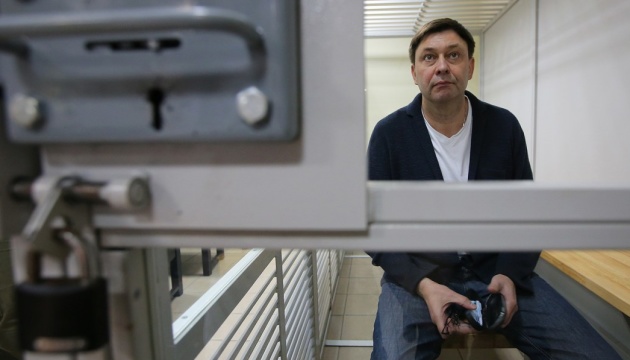 Court leaves Vyshinsky in custody until September 8
Kherson Regional Court of Appeal has left head of RIA Novosti Ukraine Kirill Vyshinsky in custody until September 8 this year, his lawyer Andriy Domansky has told Ukrinform.
"The court partially upheld the appeal of defense lawyers and revoked the Kherson City Court's decision to choose a preventive measure in the form of arrest until September 13. At the same time, the court chose a new preventive measure for Vyshinsky in the form of arrest with a different date - until September 8," he said.
Domansky added that Kherson Regional Court of Appeal had confirmed by its decision that a trial court had violated procedural rules while choosing the measure of restraint for Vyshinsky.
Earlier, the Kherson City Court extended the arrest of RIA Novosti Ukraine chief Kirill Vyshinsky until September 13.
As reported, law enforcers detained Vyshinsky on May 15. On the same day, he was declared a suspect in treason. On May 17, the Kherson City Court arrested him for two months.
Later, the prosecutor's office informed Vyshinsky about suspicion in illegal possession of weapons. On June 6, 2018, during searches conducted in a safe-deposit box rented by Vyshinsky, law enforcers found and seized a pistol and cartridges for it.
During the searches, law enforcement officers also found over $200,000 and a direct labor contract between Vyshinsky and the Rossiya Segodnya news agency for the management of a representative office in Ukraine.
Vyshinsky is seen as a possible candidate for the exchange for Ukrinform journalist Roman Sushchenko, who was sentenced to 12 years of imprisonment in a high-security colony for alleged espionage.
op