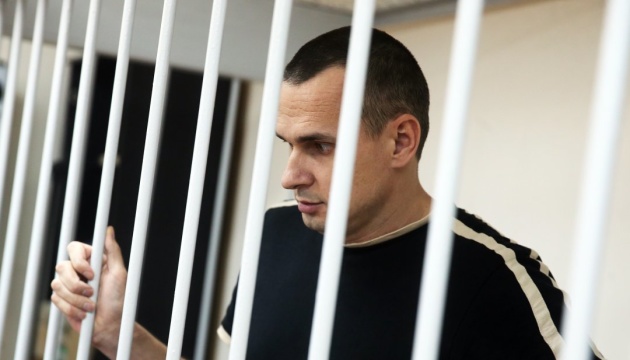 Amnesty International denied access to Sentsov
The Russian authorities have denied the international human rights organization Amnesty International access to Ukrainian film director Oleg Sentsov, who was illegally sentenced to 20 years in prison and declared a hunger strike 82 days ago, Oksana Pokalchuk, Amnesty International's Ukraine Director, has said.
"Denying us the right to visit Oleg Sentsov is indefensible. After almost 3 months on hunger strike, there are grave concerns for his health. We were planning to visit Oleg accompanied by an independent medical expert who would be able to evaluate his health. In order to dispel all doubts about Oleg's health condition and the adequacy of medical assistance provided to him, such a visit is imperative," Pokalchuk said.
She added that the organization once again calls on the Russian authorities to release the Ukrainian political prisoner.
"Amnesty International calls for Sentsov's immediate release and demands that, while detained, he has access to qualified health professionals, providing healthcare in line with medical ethics, including the principles of confidentiality, autonomy, and informed consent. In addition the Russian authorities must grant access to Sentsov for Ukrainian consular staff," the human rights defender said.
As reported, Russia's FSB detained Sentsov in Crimea on May 11, 2014. The film director was charged with terrorism and illegal possession of weapons.
In August 2015, Sentsov was sentenced to 20 years of imprisonment in a high-security colony. In February 2016, he was taken to Yakutia, and since November 2017, Sentsov has been serving his term in the Bely Medved (White Bear) penal colony in Labytnangi (Yamalo-Nenets Autonomous District).
On May 14, 2018, Sentsov declared an indefinite hunger strike demanding the release of all Ukrainian political prisoners.
In total, about 70 Ukrainian political prisoners are held in Russia and in occupied Crimea. Among them is Ukrinform journalist Roman Sushchenko, who was sentenced to 12 years of imprisonment in a high-security colony for alleged espionage.
op