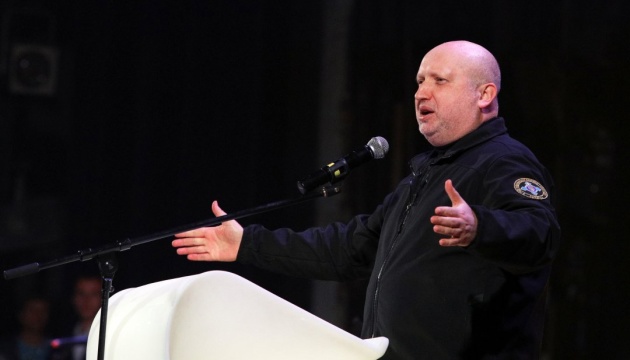 Turchynov calls nonsense idea of referendum in Russian-occupied areas
The idea of holding a referendum in the occupied areas of Crimea and Donbas, in the presence of Russian troops there, is a provocation and nonsense.
Secretary of the National Security and Defense Council of Ukraine (NSDC) Oleksandr Turchynov told this to journalists in Kyiv on Tuesday, according to an Ukrinform correspondent.
"Russia has its own interpretation of both the Minsk agreements and the Steinmeier formula. In fact, they disguise a destructive position for any offensive, and in particular, the proposal to hold a referendum is a provocation and nonsense. Holding a referendum in the occupied areas of Crimea and Donbas is the same as reading a lecture to Colorado potato beetles about the need to preserve the harvest," he said, while commenting on statements made by Russian officials.
Turchynov said that Ukraine would never accept this idea. "First, occupied areas should be fully liberated. After that, political mechanisms for the reintegration of this territory into the constitutional field of Ukraine could be involved," he added.
Turchynov also noted that Russia does not remove from the agenda an aggressive form of military pressure on Ukraine, continues to concentrate forces along the border. In addition, the Kremlin will try to influence the results of the presidential and parliamentary elections in Ukraine.
Earlier, the media reported that Russian President Vladimir Putin had offered U.S. President Donald Trump at a meeting in Helsinki to conduct a referendum in the occupied territories of the Donbas - in the so-called "DPR" and "LPR" - regarding the status of these territories.
op