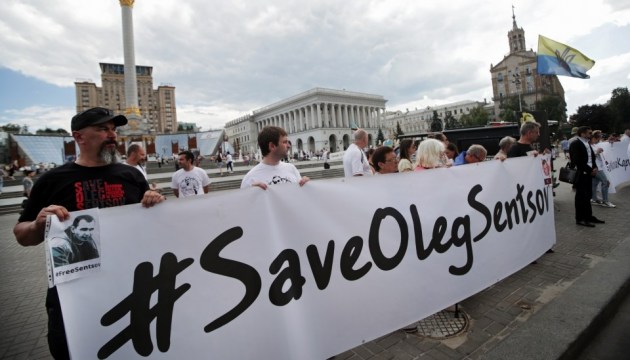 Over 50 Ukrainian public figures write letter to Sentsov
Over 50 Ukrainian public figures, including Ivan Dziuba, Lina Kostenko, Yuriy Andrukhovych, Ivan Malkovych, Oleksandr Roytburd and others, have written a letter to Oleg Sentsov, who went on hunger strike to demand that all Ukrainian political prisoners in Russia be released.
"There are not so many people in the world with such will as you have. We know that you don't like when they say something good about you, but we need such a strong-willed man alive, in order to continue the further struggle for all our guys for whom you are ready to die. We need you. Even from prison, you managed to unite all of us for this struggle. If not now, then, in the near future, we will still release you. We are Ukraine, and there are many people of good wll in a civilized world," the letter reads.
As reported, on May 11, 2014, Sentsov was detained by the Russian Federal Security Service in Crimea. Later he was taken to Moscow, to a detention facility in Lefortovo.
The film director was charged with terrorism and illegal possession of weapons. In the materials of the trumped-up case he was called the organizer of a subversive and terrorist group.
In August 2015, Sentsov was sentenced to 20 years of imprisonment in a high-security penal colony. In February 2016, he was taken to Yakutia, and from November 2017, Oleg Sentsov began to serve his term in the White Bear penal colony in Labytnangi (Yamalo-Nenets Autonomous District).
On May 14, 2018, Sentsov went on an indefinite hunger strike demanding the release of all Ukrainian political prisoners detained in Russia.
op