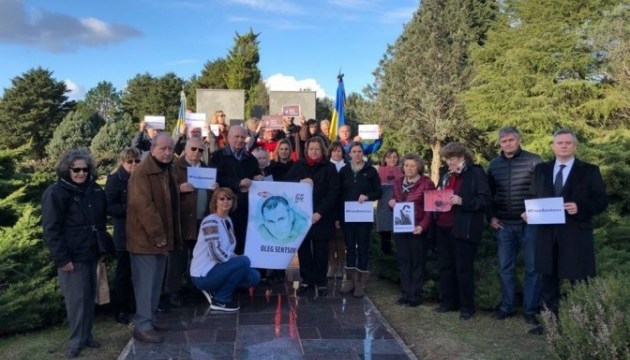 Ukrainians in Argentina hold rally in support of Sentsov and other political prisoners of Kremlin
Representatives of the Ukrainian community in Argentina, within the framework of the global campaign #SaveOlegSentsov, held a rally on July 8 to support Ukrainian film director Oleg Sentsov, who was imprisoned in Russia, and other political prisoners of the Kremlin.
The participants of the action expressed their solidarity with the Ukrainian film director on the 56th day of his hunger strike and supported his demands for the release of all political prisoners of the Kremlin, according to the Stozhary portal's website.
In addition, the representatives of the Ukrainian community and the employees of the Embassy of Ukraine took part in a joint memorial service and a commemoration ceremony of all those who fought for freedom and independence of Ukraine.
ish