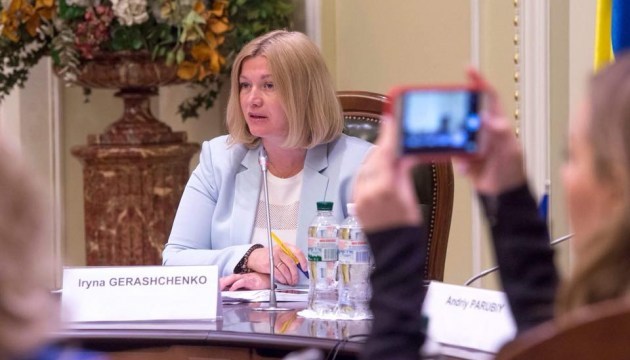 Ukraine ready to exchange 13 more criminals for Ukrainian political prisoners - Gerashchenko
Ukraine is ready to hand over to the Russian side 13 more people in exchange for the release of Ukrainian political prisoners.
First Deputy Chairwoman of the Verkhovna Rada Iryna Gerashchenko told this to journalists on the sidelines of the Verkhovna Rada on Thursday, according to an Ukrinform correspondent.
"[Russian human rights commissioner] Tatyana Moskalova provided a list of people she wants to visit on the territory of Ukraine, among them 23 people whom Ukraine is ready to transfer to the Russian side for the sake of the release of Sentsov, Balukh, Kolchenko, Hryb, Karpiuk, Panov and other of our convicts. But there were also other persons whose competent authorities identified and determined what citizenship they have. And after this check, I would like to state that the following persons were on the list of citizens whom Mrs. Moskalkova wanted to visit: Vyshinsky, Galichiy, Zhidkikh, Kamalov, Marchukov, Mikhalchevsky, Osminin, Satarrov, Sinichak, Sukhanov, Shibayev, Yurevich,. They recognized that they have either Russian or dual citizenship and, in fact, admitted to working for the aggressor country. If Moskalkova's letter is at least some interest of the Russian side to take away its criminals and give Ukraine our [citizens], the Ukrainian side stands ready to consider transferring these 13 people [including Vyshinsky] to the Russian Federation for the release of the Kremlin's political prisoners held both in the prisons of the Russian Federation, and also Volodymyr Baluch and other of our heroes who are illegally tortured today in occupied Crimea and Donbas," Gerashchenko said.
At the same time, she added that she would once again send an official letter to Russia's representative in the Trilateral Contact Group on the situation in Donbas Boris Gryzlov with the abovementioned names regarding Ukraine's readiness to exchange them for political prisoners of the Kremlin and Crimean Tatars.
"If the Russian Federation wants to exchange not just letters, but also to unblock the release of captives, we are ready to sit [at the negotiating table] in Minsk and invite Moskalkova, Denisova, the Trilateral Contact Group, the humanitarian subgroup there and unblock the hostage release process," Gerashchenko said.
About 70 Ukrainian political prisoners are currently being held in Russia and in occupied Crimea, among them Ukrinform journalist Roman Sushchenko, who was sentenced to 12 years in a high-security penal colony for alleged espionage.
op