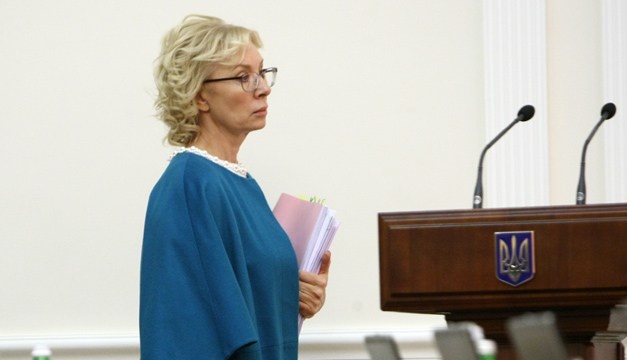 Denisova appeals to Russian ombudsman over respect for Hryb's, Klykh's rights
Ukrainian Verkhovna Rada Commissioner for Human Rights Liudmyla Denisova has appealed to the office of the Russian ombudsman due to the beating of Ukrainian Pavlo Hryb while being convoyed and the forced treatment of another political prisoner Stanislav Klykh in a psychiatric hospital, according to the website of the Ukrainian ombudsman.
"The Ukrainian Verkhovna Rada Commissioner for Human Rights has been informed that while being convoyed to a penitentiary facility in the city of Rostov-on-Don, Ukrainian citizen Pavlo Hryb was brutally beaten up by other convicts. In addition, all things and food, which have been handed over by representatives of the Ukrainian Consulate General the day before, were taken from him. It also emerged that the 20-year-old Ukrainian political prisoner has been suffering from a severe headache and weakness, but he was not given necessary medicines," the statement said.
In view of the above, an appeal was prepared to the Russian human rights commissioner's office, which "in particular notes that Pavlo Hryb's condition and the violation of his right to personal security, which is guaranteed by the Russian penal enforcement legislation, causes serious concern."
The letter also expresses a request to take all necessary measures to ensure respect for Pavlo Hryb's rights, provide necessary qualified medical assistance and thoroughly help ensure personal security of Pavlo and other Ukrainian citizens convicted in Russia.
Another appeal to the office of the Russian human rights commissioner says that Denisova repeatedly sent letters to the Russian ombudsman with a request to facilitate an independent medical examination of Stanislav Klykh. However, no replies to these letters have been received.
In addition, the report says, it emerged that Klykh had again been placed in the Magnitogorsk regional penitentiary mental hospital. "According to available information, the prisoner has never given permission to hospitalization and has been subject to forced treatment with unknown medicines," the report says.
Denisova asked her Russian counterpart to disclose reasons for Klykh's transfer to the abovementioned medical institution and provide respective documents and facilitate holding an independent medical evaluation of the Ukrainian political prisoner by Ukrainian or foreign doctors.
op