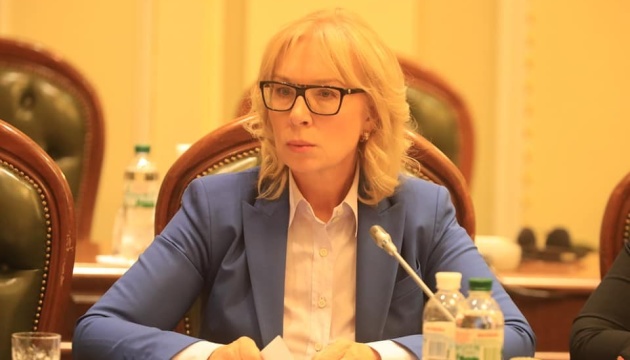 Denisova tells Lithuanian ombudsman about 'Putin's guarantees'
Ukrainian Parliament's Human Rights Commissioner Liudmyla Denisova has met with Ombudsman of the Lithuanian Seimas Raimondas Sukys and Head of the Ombudsman's Office of the Seimas of Lithuania Augustinas Normantas, the Ukrainian ombudsman's press service has reported.
"During the meeting, Liudmyla Denisova spoke about her trip to Russia and noted that guarantees provided to her by Russian President Vladimir Putin regarding her visit to Ukrainian political prisoners had not been fulfilled by the Russian side," the statement reads.
Denisova noted at the meeting that Ukraine, for its part, did everything possible to establish communication with Russia on the issue of political prisoners, "however, neither the promised reciprocity, nor synchronism, nor mirroring was provided by the Russian side."
The ombudsman said that she had recently appealed to EU ambassadors with the request to adopt a resolution on Ukrainian political prisoners at the Ukraine-EU summit.
In addition, Denisova will address Council of Europe Commissioner for Human Rights Dunja Mijatovic about the possibility of a joint visit to Oleg Sentsov and other Ukrainian political prisoners. The commissioner said that this issue is to be discussed in detail at a meeting with Mijatovic.
"Raimondas Sukys and Augustinas Normantas, in turn, supported Liudmyla Denisova and noted that they are ready to cooperate in developing the mechanism and further steps to attract European ombudsmen institutions for the release of Ukrainian political prisoners," reads the report.
Denisova arrived in Russia on June 15, but she was not allowed to meet with any of the Ukrainian political prisoners.
About 70 Ukrainian political prisoners, including Ukrinform journalist Roman Sushchenko, who was illegally sentenced to 12 years in prison in a high-security penal colony for alleged espionage, are held in Russia and occupied Crimea.
op