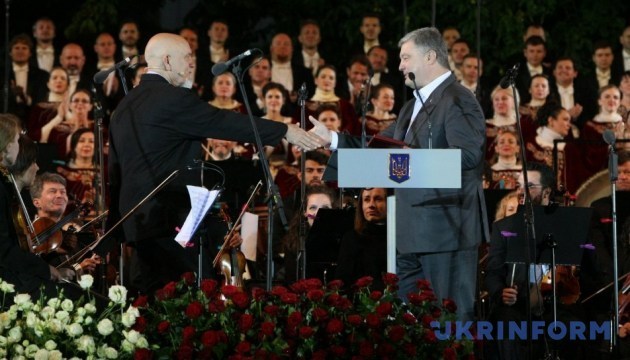 Poroshenko presents actor John Malkovich, conductor Riccardo Muti with state awards. Photos
President of Ukraine Petro Poroshenko presented actor John Malkovich, Professor Nicola Franco Balloni, conductor Riccardo Muti and President of the Ravenna Festival Cristina Muti with the state awards of Ukraine at the concert "The Roads of Friendship. Ravenna-Kyiv."
"I have presented conductor Riccardo Muti, actor John Malkovich, Professor Nicola Franco Balloni and President of the Ravenna Festival Cristina Muti with the state awards of Ukraine. I'm grateful for your support and solidarity with Ukraine!" the Head of State wrote on Twitter.
As President Poroshenko noted, the music project "The Roads of Friendship. Ravenna-Kyiv" is a musical holiday that unites Ukraine and Europe and brings Ukraine back to the family of European nations.
"It is especially important that this concert takes place at a time when Ukraine repels the military aggression of the Russian Federation. We enjoy the support of the whole Europe and the whole world so that peace could be finally restored on our land," the President wrote.
Радий нагоді вручити високі державні нагороди диригентові Рікардо Муті, акторові Джону Малковичу, професору Ніколо Франко Баллоні та президенту Равеннського фестивалю Крістіні Муті.

Дякую за підтримку та солідарність з Україною! pic.twitter.com/Wg7rVDVvOM

— Петро Порошенко (@poroshenko) 1 июля 2018 г.
On Sunday, July 1, Italian and Ukrainian musicians performed a concert at the Sofiyska Square in Kyiv within the framework of the international project "The Roads of Friendship. Ravenna-Kyiv."
ol