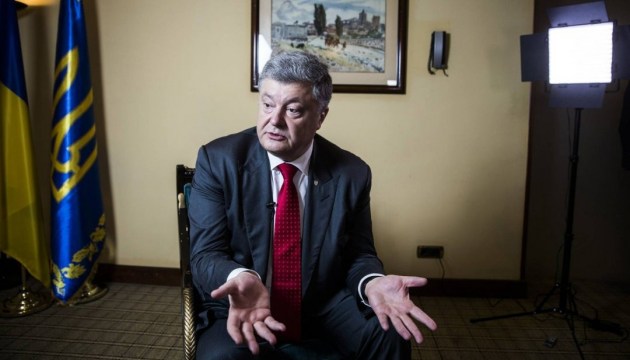 Babchenko operation was needed - Poroshenko
Russian special services wanted to destabilize the situation inside Ukraine through the murder of journalist Arkady Babchenko and to show that the current Ukrainian authorities cannot control the situation.
Ukrainian President Petro Poroshenko said this in an interview with Spanish newspaper El Pais.
"Would you like Russian special services to really kill this journalist? The purpose of his killing was to destabilize Ukraine, demonstrate that the Ukrainian authorities cannot control the situation in their country. Our special service exposed this and showed that we are struggling against the murder," Poroshenko said, when asked whether it was really necessary to stage Babchenko's murder.
The head of state stressed that the culprit had been arrested and added that it would soon be reported where the money and instructions came from, as well as lists of journalists who could have become potential victims.
"If we want to protect freedom of the press, if we want to protect journalists, we are forced to use such methods of struggle. In any case, this order was given not by the president, but by a special prosecutor. And I support my special services if they defend a journalist, if they save the life of a journalist," Poroshenko said.
Earlier reports said that on May 29, 41-year-old journalist Arkady Babchenko was fatally wounded near his apartment in Kyiv. Criminal proceedings were opened over the murder of the journalist.
On May 30, it turned out that Babchenko was alive. Security Service of Ukraine (SBU) Chief Vasyl Hrytsak said that Russian intelligence services had ordered the murder of the journalist and the SBU conducted a special operation to prevent the assassination attempt. Ukrainian special services detained the organizer of the journalist's murder during a special operation in Kyiv.
On May 31, Ukrainian Prosecutor General Yuriy Lutsenko said that investigators, through the imitation of the murder of journalist Babchenko, had received a list of 47 people who could have been the next victims of terrorists. According to him, these are mainly well-known Ukrainian and former Russian journalists, who were informed of the danger and their protection will be ensured.
op