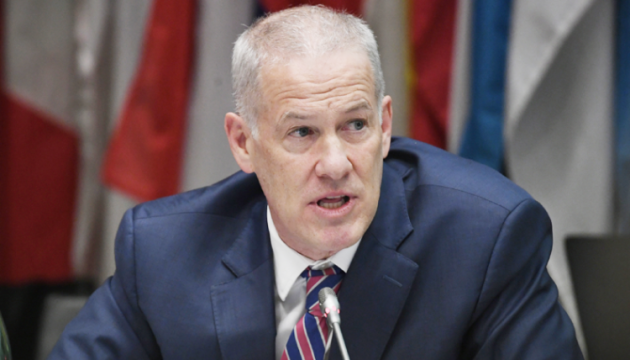 U.S. supports Sentsov's demands to release all political prisoners
Washington has expressed concern over the detention in Russia of more than 60 Ukrainian political prisoners and supported Ukrainian filmmaker Oleg Sentsov, who declared a hunger strike demanding their unconditional release.
Charge d'Affaires, a.i. of the U.S. Mission to the OSCE Harry Kamian said this at a meeting of the OSCE Permanent Council in Vienna on Thursday, according to an Ukrinform correspondent.
"The United States remains deeply concerned about the condition of Ukrainian activists Oleg Senstov and the over sixty other Crimean political prisoners currently in Russian custody," Kamian said.
He recalled that Sentsov had been on a hunger strike since May 14. "Crimean political prisoners should be released immediately and allowed to return to Ukraine," he said.
In this context, Kamian also pointed out that Russia continues to grossly violate human rights in the occupied Crimea, using violence and intimidation against the Crimean Tatar community and other activists who oppose Russian occupation.
According to Kamian, the United States condemns the abduction and beating of Crimean Tatar activist Asan Egiz near Simferopol on May 23 by men in police uniforms. "The United States also calls on Russia to bring to justice those responsible for the unsolved disappearances of Ervin Ibragimov and at least a dozen other Crimean Tatars since the occupation began," the diplomat said.
He stressed that Russia's aggression and conduct in Ukraine "undermine the core principles and commitments of the OSCE, as well as our collective security."
"The United States fully supports Ukraine's sovereignty, independence, and territorial integrity within its internationally recognized borders. We do not, nor will we ever, recognize Russia's purported annexation of Crimea. Crimea-related sanctions on Russia will remain in place until Russia returns full control of the peninsula to Ukraine," Kamian said.
op