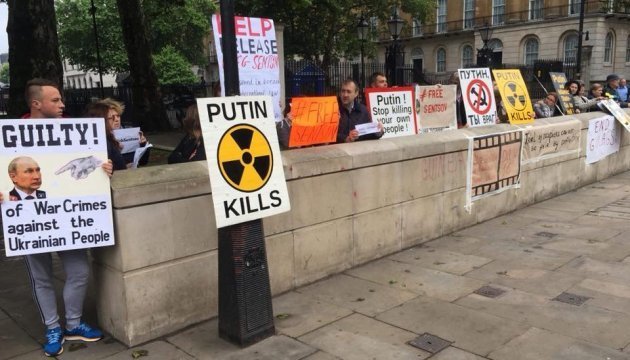 Action in support of Ukrainian political prisoners held in London. Photos, Video
The action in support of filmmaker Oleg Sentsov and all Ukrainian political prisoners, who were illegally imprisoned in Russia and the occupied Crimea, took place in London on May 29.
The activists demanded to release the political prisoners, one of the action organizers Sasha Dovzhyk posted on Facebook.
"It is the 16th day of Oleg Sentsov's hunger strike. London is backing his demand to release all Ukrainian political prisoners in Russia and occupied Crimea. The action will continue on Saturday 2 June," she wrote.
The Saturday action will start at 13:00 on Downing St, Westminster, London.
As a reminder, #SaveOlegSentsov global action in support of Ukrainian political prisoners will take place on June 1 and 2.
ol