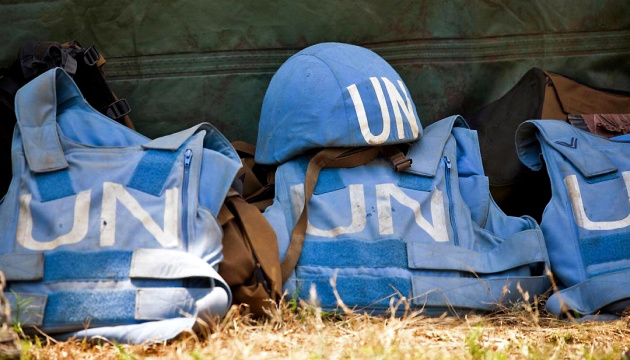 Participation in peacekeeping forces gives Ukraine right to count on UN assistance - Poroshenko
The significant contribution of Ukrainians to maintaining peace and security in the world gives Ukraine the moral right to rely on adequate assistance from the UN in confronting Russian aggression, President Petro Poroshenko has said.
The head of state said this on the occasion of the International Day of United Nations Peacekeepers, which is marked on May 29.
"Ukraine's significant contribution to maintaining international peace and security gives us the moral right to rely on the potential and adequate assistance of the United Nations in hard times when our state resists treacherous external aggression," Poroshenko said.
According to him, the deployment in the territory of the Donbas temporarily occupied by Russia of a multinational UN-led operation can become an important element of the settlement, which is aimed at bringing peace back to Ukrainian land and restoring its territorial integrity and sovereignty within internationally recognized borders.
At the same time, he recalled that since the first years of its independence Ukraine had become an integral part of the UN's unparalleled efforts in the struggle for the ideals of international peace and security.
The head of state stressed that with their professionalism and courage the servicemen of the Ukrainian Armed Forces, other military formations and law enforcement bodies of Ukraine had gained recognition and respect in many countries of the world.
He noted that more than 30 Ukrainian servicemen had given up their lives by carrying out a peacekeeping mission and defending the goals and principles of the United Nations.
He also said that Ukraine would continue to be a reliable UN partner in implementing a noble mission on maintaining international peace and security.
op