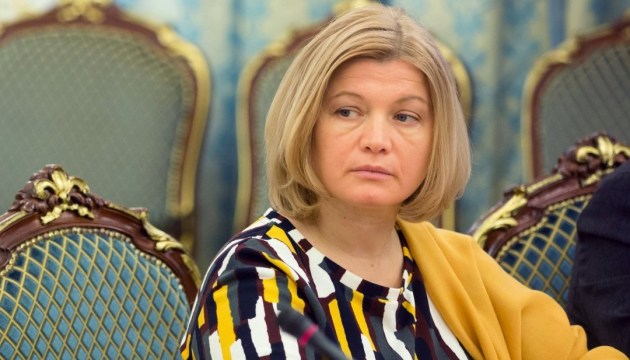 Release of Ukrainian captives depends on Putin - Gerashchenko
The release of the Ukrainian captives of the Kremlin and those who are held in occupied Donbas and Crimea depends on Russian President Vladimir Putin, First Deputy Chairwoman of the Verkhovna Rada of Ukraine Iryna Gerashchenko has reported on Facebook.
"The release of the Kremlin's captives and prisoners in occupied Donbas and Crimea depends on Putin. Kyiv is ready for a compromise on this issue. We still have no answer to our proposal for the transfer of 23 convicted Russians in exchange for the return of Ukrainians from Russian prisons. I call on representatives the public sector, relatives of Ukrainian hostages and political prisoners of the Kremlin for joint and constructive cooperation on the issue of the release of illegally detained Ukrainian citizens held in the temporarily occupied territories of Ukraine and in the Russian Federation," the politician wrote.
Gerashchenko noted that the authorities were making every effort for the release and that work was underway in various directions.
"Journalists are asking about the hostages and political prisoners of the Kremlin. Firstly, I and my office are in constant contact with families and lawyers. Last week, shortly after Sentsov declared a hunger strike, my office was in contact with his sister, Natalia. We invited her to meet with U.S. Special Representative Volker (unfortunately she could not join the meeting), and the release of hostages and political prisoners was discussed at this meeting. I spoke about Oleh's hunger strike, and we asked for the pressure on the Russian Federation to be intensified. We are also in contact with prisoners' lawyers, Feygin, Novikov, and lawyers for Crimean Tatars," she said.
She also added that the release of Ukrainian hostages and political prisoners is at the center of attention at all international meetings, including at the highest level.
op