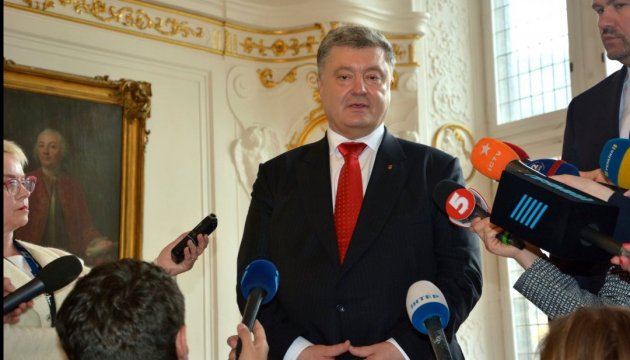 Poroshenko calls on world to continue pressure on Russia to release political prisoners
Ukrainian President Petro Poroshenko has called on the international community to continue pressure on Russia with the demand to release all Ukrainian political prisoners.
He wrote this on his Facebook page.
"I urge the international community to continue to exert pressure on the Kremlin so that Ukrainian political prisoners return home as soon as possible, to their families. We continue to fight and make every effort to release all illegally imprisoned Ukrainians who are held in the territory of the occupied Crimea, Donbas and in the territory of the Russian Federation," Poroshenko said.
The head of state recalled that Ukrainian political prisoner in Russia Oleh Sentsov had gone on an indefinite hunger strike to protest against the actions of the Kremlin, which holds Ukrainians on trumped-up charges.
Poroshenko added that the only condition for ending Sentsov's hunger strike was the release of all Ukrainian political prisoners in Russia.
On May 14, Sentsov began a hunger strike demanding the release of all Ukrainians detained in Russia and Russian-annexed Crimea.
Ukrainian film director Sentsov and activist Oleksandr Kolchenko were detained in Crimea on May 10, 2014. They were accused of plotting terrorist attacks. Kolchenko was jailed for ten years and Sentsov for 20 years.
There are currently 64 Ukrainian political prisoners held in Russia and Crimea.
op