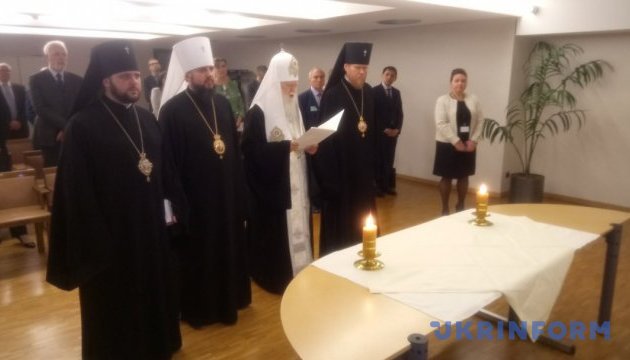 Filaret calls Russia's war against Ukraine a threat to whole of Europe
Europe must realize that the war unleashed by Russia against Ukraine is a problem for the whole of Europe, and pressure on the Kremlin has to continue.
Patriarch of Kyiv and All Rus-Ukraine Filaret said this in the European Parliament at an international conference "The human cost of Russian aggression in Ukraine: Testimonies of abductions, torture and murder," Ukrinform's correspondent in Brussels reported.
"It is not necessary to see the war that is going on in the east as a purely Ukrainian problem. This is a pan-European problem. If we do not understand this, we will have trouble in Europe itself," Filaret said.
He said that not only physical but also spiritual power is needed to defeat the Russian aggressor.
"Our church is making every effort to stop the aggressor. The Ukrainian people appreciate the role of the church in protecting the Ukrainian state," Patriarch Filaret said.
On behalf of the Ukrainian Orthodox Church of the Kyiv Patriarchate, the patriarch called on the European Union to continue exerting sanctions pressure on Russia to defeat the aggressor and free Ukrainian hostages unlawfully held by the Kremlin.
op