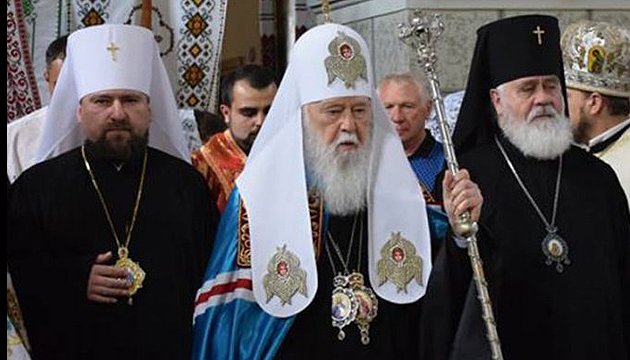 Patriarch Filaret prays for Ukraine in European Parliament
His Holiness Patriarch of Kyiv and All Rus-Ukraine Filaret has uttered in the European Parliament a prayer for peace in Ukraine and Europe.
This is Patriarch Filaret's second visit to the EU's legislative body after 2014, Ukrinform's correspondent in Brussels reported.
"Let us pray to our Lord Jesus Christ so that he blesses our work, our cooperation for the good of both Ukraine and Europe, so that peace reigns in the world," Patriarch Filaret said.
He also prayed for the creation of a single local Orthodox Church in Ukraine.
"The Ukrainian local Orthodox Church is the only spiritual foundation of the indivisibility of the Ukrainian state and the unity of the Ukrainian people," Patriarch Filaret said.
The prayer was held in Ukrainian and English.
According to the program of the visit, Patriarch Filaret will attend two conferences in the European Parliament on Wednesday - "The human cost of Russian aggression in Ukraine: Testimonies of abductions, torture and murder" and "Ukraine in times of independence: the Orthodox Kyiv Patriarchate and the challenges of a changing society."
Patriarch Filaret will also visit Ukrainian servicemen who undergo rehabilitation at a military hospital in Brussels and will meet with the Ukrainian community in Belgium.
op