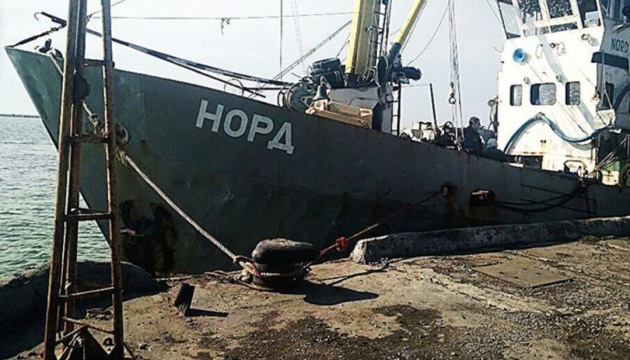 Two Nord seiner crewmembers flee to Belarus with fake passports
Russian diplomats and lawyers are resorting to deception in order to take crewmembers of the offending Nord fishing vessel out of Ukraine as Russians, not Ukrainians, the press office of the Ukrainian State Border Guard Service has reported.
"On April 19, at about 06:00, two Ukrainian citizens, crewmembers of the Nord vessel, fraudulently left Ukraine for Belarus. Allegedly two Russian citizens registered for the flight to Belarus at the Zhuliany airport. They presented at the passport control the documents of Russian citizens issued at Russia's Consulate General in Kharkiv. Since the Ukrainian side does not in any way recognize the documents issued by the Russian occupation authorities in Crimea, but this does not apply to documents issued by official Russian diplomatic missions operating on Ukrainian territory, and since the transcription of the names of citizens in the Russian passports was different from the identification data of Ukrainian citizens who are crewmembers of the Nord seiner, which were contained in the databases, these citizens were let through the border and flew out to Belarus," the statement reads.
At the time of the departure the State Border Guard Service received no respective orders from other law enforcement agencies or court decisions to restrict the departure of the ship's crewmembers.
Taking into account the fact that there are grounds for doubting the legality of the issuance of documents to Ukrainian citizens who are crewmembers of the Nord ship, which allegedly confirm their Russian citizenship, at 15:20, during the registration of passengers for the flight to Minsk, the State Border Guard Service refused exit to seven more Ukrainian citizens who are crewmembers of the Nord vessel, who provided similar documents of Russian citizens at the border control. The documents were seized and administrative offense reports were drafted due to another attempt to illegally violate the state border of Ukraine. The materials were sent to court.
Crewmembers of the Nord vessel were again invited to apply to State Migration Service bodies for the purpose of confirming Ukrainian citizenship and subsequently leaving for permanent residence legally.
The Foreign Ministry, the SBU and other law enforcement agencies were informed about this fact.
op