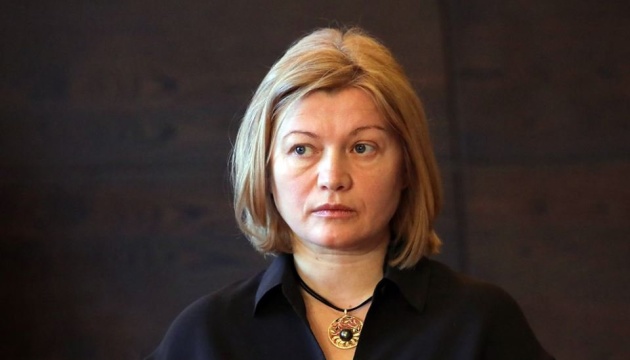 Moscow does not want 23 Russians in exchange for Ukrainian political prisoners - Gerashchenko
The Ukrainian side is ready to transfer to Russia 23 Russian citizens who were convicted of crimes against Ukraine's territorial integrity in exchange for Ukrainians held on Russian territory, but the Russian side has not responded to this proposal so far.
First Deputy Chairwoman of the Verkhovna Rada Iryna Gerashchenko wrote this on her Facebook page on Wednesday, April 18.
"At a meeting of the humanitarian group in Minsk (where experts from the SBU and the Ministry for Temporarily Occupied Territories worked together) I appealed to OSCE Coordinator Toni Frisch and Russian representatives to use all of their efforts and unconditional influence to unblock the search for those missing in occupied territories and to facilitate the receipt by the Ukrainian side of information about our warriors who have stayed in prisons in occupied Donbas for several years and about whom there is no information, whose location is not reported to us, and whose detention is not confirmed. Yesterday I again met with the grieving mothers and wives of those about whom there are no news. I passed their letters with all the information available to them about the time and circumstances of their detention and the request to clarify their fate. We insist on the immediate access to prisons in occupied territories of the International Committee of the Red Cross (ICRC), and today I raised this issue many times," Gerashchenko said.
According to her, the ICRC should assist in finding missing persons, seeking information on illegally detained persons, and monitoring the situation in prisons. "The ICRC has full access to the Ukrainian penitentiary system. Instead, for the years of the war, the ICRC has never been granted access to Ukrainian prisoners in Russia and in occupied territories," she said.
Gerashchenko again emphasized the readiness of the Ukrainian side to hand over as soon as possible to Russia 23 Russians who were convicted of crimes against Ukraine's territorial integrity, in exchange for Ukrainians held in Russia. "We have not received the answer to this proposal, but instead, representatives of ORDLO [certain areas of Donetsk and Luhansk regions] continue to include these Russians in their lists as 'militiamen and residents of young republics.' Russia has not shown any interest in its citizens sent to Ukraine."
"There has been no progress so far as for the release of detainees. They do not confirm dozens of our citizens, they do not give us information on them, but instead they are stubbornly demanding that we pass to them former Berkut riot police officers and others who are not covered by the Minsk agreements. So we will continue to work to find a compromise and convergence of position - for the result," Gerashchenko said.
op