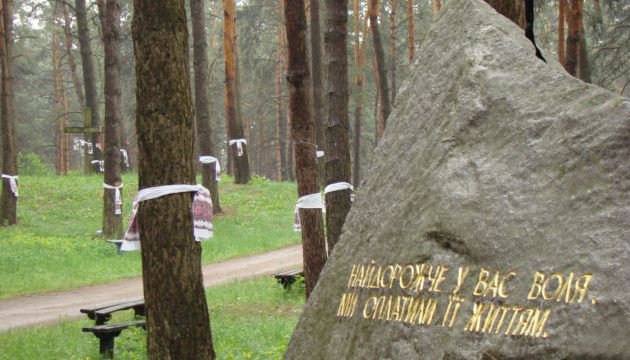 Memorable dates. Rehabilitation of victims of political repression in Ukraine
On this day, in 1991, the Verkhovna Rada of Ukraine, the first of the former Soviet republics, adopted the law "On the Rehabilitation of Victims of Political Repression in Ukraine."
The number of victims of political repression in Ukraine cannot be counted. Some experts believe that almost 1.5 million people were arrested in Ukraine (over 50% of them being Ukrainians) from the early 1920s to the late 1980s. Many of them were shot dead, while others went through prisons, exile, expulsion, hard labor, concentration camps, or were forced to visit psychiatric institutions. Terror and repression affected almost all strata of the Ukrainian population: academics, politicians, military, priests, cultural workers, and peasants. Massive repressions during the Stalinist regime (in the 1930s) became particularly tough and painful. For example, 197,617 people were convicted in Ukraine in 1937-1938, and 122,237 were sentenced to death. The lion's share of these sentences was issued by the organs of extrajudicial sentencing, the so-called NKVD troikas, which contradicted even the norms of the Constitution that was in force at that time.
The rehabilitation of victims of illegal repression began almost immediately after the start of the de-Stalinization process. In 1953, the Supreme Court of the USSR was granted the right to review the decisions of the former extrajudicial authorities ("troikas") under the protests of the Prosecutor General. In Ukraine, about 250,000 citizens were rehabilitated under this category of cases in 1956-1959. But checks were conducted only on the statements of those repressed or their relatives, therefore, over the next 28 years only 85,000 cases were reconsidered and 60,000 people were rehabilitated.
The rehabilitation processes revived again during perestroika. Since 1989, 180,000 citizens have been rehabilitated in two years. The law "On the Rehabilitation of Victims of Political Repression in Ukraine," which was adopted on April 17, 1991, first of all determined that rehabilitation is applied to persons who, for political reasons, were unreasonably sentenced by courts or extrajudicial bodies (or in any extrajudicial order) on the territory of Ukraine from 1917 and until the entry into force of this law. Rehabilitation also concerned citizens who were exiled and expelled from their permanent place of residence and deprived of their property for political, social, religious, national and other motives under the pretext of "fighting the kulaks", for the so-called "aiding the bandits," etc. The honorable name of those who suffered for persuasion was restored.
In 2010, the law "On the Rehabilitation of Victims of Political Repression in Ukraine" was amended in terms of the status of persons who suffered from political repressions in their childhood and in terms of guarantees of their social protection.