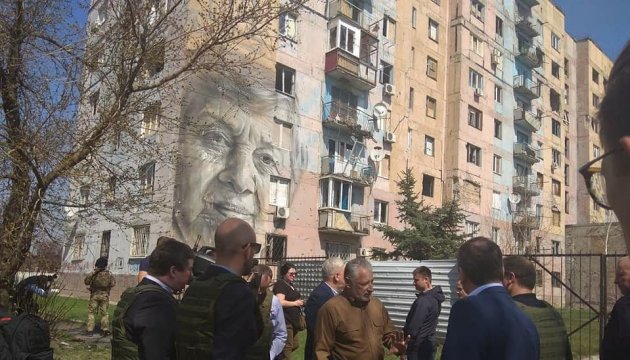 Lithuanian PM visits frontline town of Avdiyivka
A delegation from Lithuania, headed by Prime Minister Saulius Skvernelis, has visited Avdiyivka, a town in Donetsk region located almost three kilometers from the contact line.
Foreign guests were accompanied by Ukraine's Minister for Temporarily Occupied Territories and Internally Displaced Persons Vadym Chernysh, according to the government portal.
"The delegation visited a symbolic building that was shelled, however, people continue to live there. The delegation also visited an ambulance station in the town of Avdiyivka, which was repaired at the expense of the Lithuanian government. EUR 40,000 was allocated as part of a grant for restoration work," reads the report.
During their trip, the guests met with servicemen and volunteers and passed humanitarian aid to them from the Lithuanian government and the Blue/Yellow charity organization.
The delegation also attended the opening of a children's playground that was constructed at the expense of funds collected by Blue/Yellow, and visited school No. 5.
According to Skvernelis, the purpose of this visit is to show solidarity with Ukraine.
"The Government of Lithuania and our people support Ukraine in a political way and in any other way. The purpose of our visit is to show this solidarity. It's easy to express concern, but it's necessary to be here with you, to feel and see what's going on along the contact line. It's important to see that in the 21st century, in the center of Europe, there are residential buildings that were hit by direct tank attacks," Skvernelis said.
The Lithuanian delegation included, in particular, Defense Minister Raimundas Karoblis, Vice-Minister of Foreign Affairs Darius Skusevicius, and others. The guests were accompanied by Lithuanian Ambassador to Ukraine Marius Janukonis and chairman of the Donetsk military and civil administration Pavlo Zhebrivsky.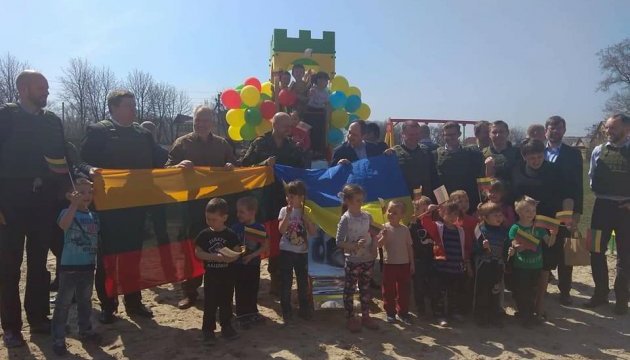 op