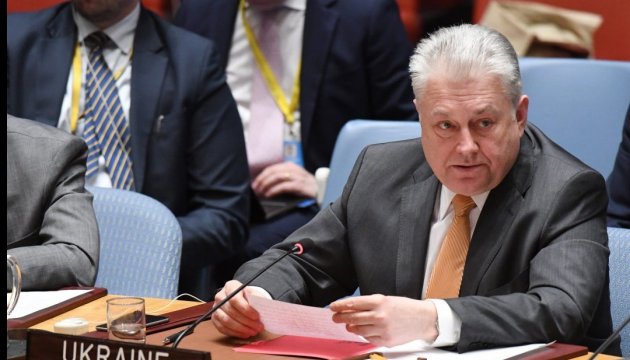 Yelchenko calls for concrete action on peacekeeping force in Donbas
Europe still faces a real threat of a full-fledged war due to Russia's ongoing aggression, and today the situation requires concrete, constructive steps towards the deployment of a UN peacekeeping force in the conflict zone in eastern Ukraine.
Ukraine's Permanent Representative to the United Nations Volodymyr Yelchenko said this at the open debate of the UN Security Council on Wednesday, March 28, an Ukrinform correspondent reported.
"For more than four years the situation in and around my country has remained an example of unutilized potential of UN peacekeeping. Ukraine's request to deploy PKO in Donbas region of Ukraine is still not properly considered and no action has been taken," Yelchenko said during a meeting devoted to UN peacekeeping operations.
He noted that from the first days in office UN Secretary-General Antonio Guterres had declared a clear position on primacy of conflict prevention, mediation and other diplomatic peaceful tools.
"In this respect, his visit to Ukraine last July was a good manifestation of commitment to bringing peace to Europe. The continent, over which a very real threat of another full-fledged war is currently hanging due to an ongoing aggression by the one permanent member of the Council against my country, as well as its aggressive actions in other parts of the world, including in the territory of other permanent members of the Council," Yelchenko said.
That is why, what is urgently needed now are concrete actions - both on the part of the Security Council and the Secretary-General, the diplomat said.
"We stand ready to engage constructively at all levels," Yelchenko said.
op