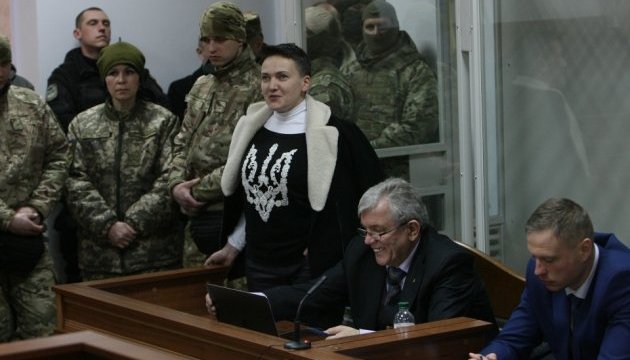 Lawyer challenges Savchenko's arrest
The defense team of Ukrainian MP Nadia Savchenko has appealed against the ruling of the Shevchenkivsky District Court of Kyiv to select a measure of restraint for her in the form of arrest.
Her lawyer, Viktor Chevhuz, told this to reporters at Kyiv Court of Appeal on Monday, Ukrinform reports.
"The Court of Appeal registered a petition from Savchenko's defense team against the ruling of the Shevchenkivsky District Court on selecting the preventive measure for her," Chevhuz said.
According to the lawyer, the defense team's position is based on the fact that "political massacre is committed against Savchenko." In addition, the notice of suspicion announced by the prosecution party is unjustified, according to Chevhuz.
He noted that charges had been brought against Savchenko under six articles of the Criminal Code. At the same time, photo and video evidence does not prove any crime allegedly committed by Savchenko.
"There are no actions there. They are simply talking. A person can be judged for concrete actions, not for talks. There are concrete actions only in one out of six episodes - the import of weapons. All other episodes concern intentions, and there is no criminal liability for intentions," the lawyer said.
Chevhuz said that Savchenko had nothing to do with the bringing of weapons, because Volodymyr Ruban, the leader of the Officer Corps prisoner release center, had been detained for this, and she "was only filmed."
On March 23, the Shevchenkivsky District Court of Kyiv ruled to arrest Savchenko until May 20 without a bail option.
On March 22, the Verkhovna Rada agreed with the Prosecutor General's Office to prosecute, detain and arrest MP Savchenko.
op