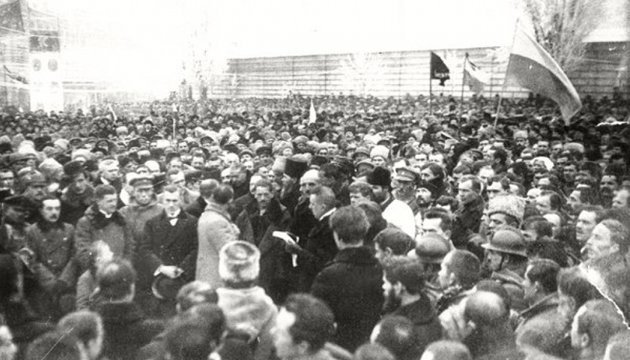 News articles from Ukrinform's archives. 1919
The anniversary project "100 Years - 100 News Articles" offers the most important news articles published by Ukrinform over the past centenary.
Proclamation of the Unification Act
January 23. Kyiv. UTA "Yesterday, on the day of the anniversary of the proclamation of the Fourth Universal of the UPR, which proclaimed the independence of Ukraine, Sofiyska Square hosted a second national solemnity - the proclamation of the accession of the West Ukrainian People's Republic to the Great Eastern Ukraine."
On January 22, 1918, the Universal of the Central Rada proclaimed the independence of the Ukrainian People's Republic. A year later, on January 22, 1919, the Universal of the Directory of the Ukrainian People's Republic, the so-called Act Zluky (the Unification Act), on the unification of Ukrainian lands into a single Ukraine, was proclaimed on Sofiyska Square in Kyiv.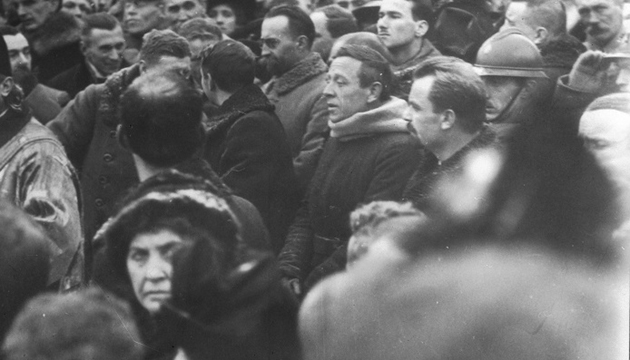 In particular, the text of the document stated: "The territory of Ukraine, divided over the centuries, including Galicia, Bukovyna, Carpathian Ruthenia, and Dnieper Ukraine will now become a great united Ukraine."
However, the unification of Ukraine was purely symbolic. A few weeks later, after the proclamation of the Unification Act, the Bolsheviks captured Kyiv, the Poles occupied Eastern Galicia, and the Czechoslovakia took control of Transcarpathia.
Bolsheviks in Chernihiv
January 31. Kyiv. UTA "The Bolsheviks in Chernihiv. A delegate who came from Chernihiv for the Labor Congress says that the city was damaged with cannon shooting. Terror began after the arrival of the Bolshevik detachments to Chernihiv, and many local citizens were beaten by the Bolsheviks. The provincial Prosvita was also destroyed. The Bolshevik army is all Russian, but for some reason they call, for example, one regiment 'The first Ukrainian Soviet regiment." The peasantry becomes hostile to the Bolsheviks."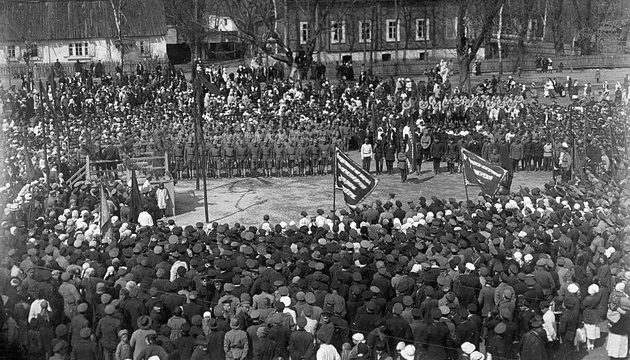 The history of the second coming of the Bolsheviks to Ukraine began in the summer of 1918. Then a rebellion erupted against Hetman Skoropadsky's power, and it was inspired by two Ukrainian parties - Social Democrats and Socialist-Revolutionaries. The rebellion was suppressed by parts of the German army and the Hetman's state guard. Socialist leaders began to seek contacts with the Moscow Bolsheviks.
On November 13, 1918, a secret Directory was elected in Kyiv to lead a rebellion against Hetman Skoropadsky. After the overthrow of Skoropadsky, the Directory's government faced the replacement of the Austrian-German invaders in Ukraine with the troops of the Bolshevik-led Russia.
The Directory declared war on Russia only on January 16. Kharkiv and Chernihiv had already been lost at the time. Having seized Kyiv on February 5, 1919, the Bolsheviks established Soviet power on most of Ukraine's territory by the end of May.